Chris Jarvis Success Story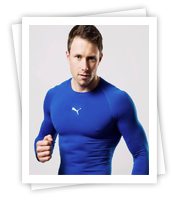 What is your background with exercise and fitness training?
I started my pursuit in the industry as a dancer and from my passion for dance I went on to become a dance teacher. From this i then went on to train in Pilates and continue to enhance my knowledge.
Why did you choose the course you did?
I wanted to be a qualified Level 3 Personal Trainer with the view to going on to move towards doing the level 4 Obesity and Diabetes.
Why did you choose HFE to deliver your training?
I had heard extremely good reviews and a mate of mine did his course with HFE and when i researched more, their prices could not be beaten.
What did you enjoy most about your course?
The home learning aspect really works for me. I had plenty of time to study with my current job and I feel that because you can study at your own pace and your own way, you really get to understand the material than you would not get on a week long intensive course.
What did you find most challenging about your course?
The Anatomy was the hardest but once its started to make sense it was fine. It was what I came to enjoy learning about the most!
How would you rate the quality of teaching provided by your course tutors?
The course tutors are awesome! They are the reason why I've done 3 courses with HFE. Level 2 Fitness Instructor-Gym Based Exercise, Level 3 Personal Training and Level 3 Exercise Referral.
The online/home support is excellent, the guys are so helpful!
To what extent did you feel supported during the home-study phase of your course?
The online/home support is excellent, the guys are so helpful, no question is too small and they are there if and when you need them.
How would you rate the teaching and learning materials provided to you?
The reading manuals and online material is great, do not worry, if your like me and you have never studied in this area it is all very clear and thorough.
What is your current role?
Still teaching!
What are your future training and career plans?
I plan to start putting together exercise classes suitable for dance colleges. Something that I think is overlooked or taught incorrectly in general at the moment. I am also looking to pick up some more private clients. In the future I really would like to move into the area of obesity.