We understand that once you have set your sights on becoming a qualified Pilates teacher, it can be quite daunting and overwhelming to process all the different courses and qualifications that are available.
Understanding the number of different ways in which these courses can be completed, and the benefits of each, can also be quite a lot to take in. This is why we've decided to provide you with a summary of all of this in a single email so that you can consider the relative benefits and drawbacks of each in your own time.
In no particular order, here's a summary of the main Pilates course formats.
Directly Delivered Courses
It wasn't too long ago that if you wanted to become a Pilates teacher, you'd need to attend full-time course in person for around 6-8 weeks, making the prospect largely unattainable and inaccessible for most people, especially those already in work or with a family.
Outside of a small range of boutique Pilates studios delivering their own brand of Pilates, there are very few full full-time directly delivered Pilates courses on the market. Here at HFE, we don't deliver any Pilates qualifications that don't have some degree of home-study.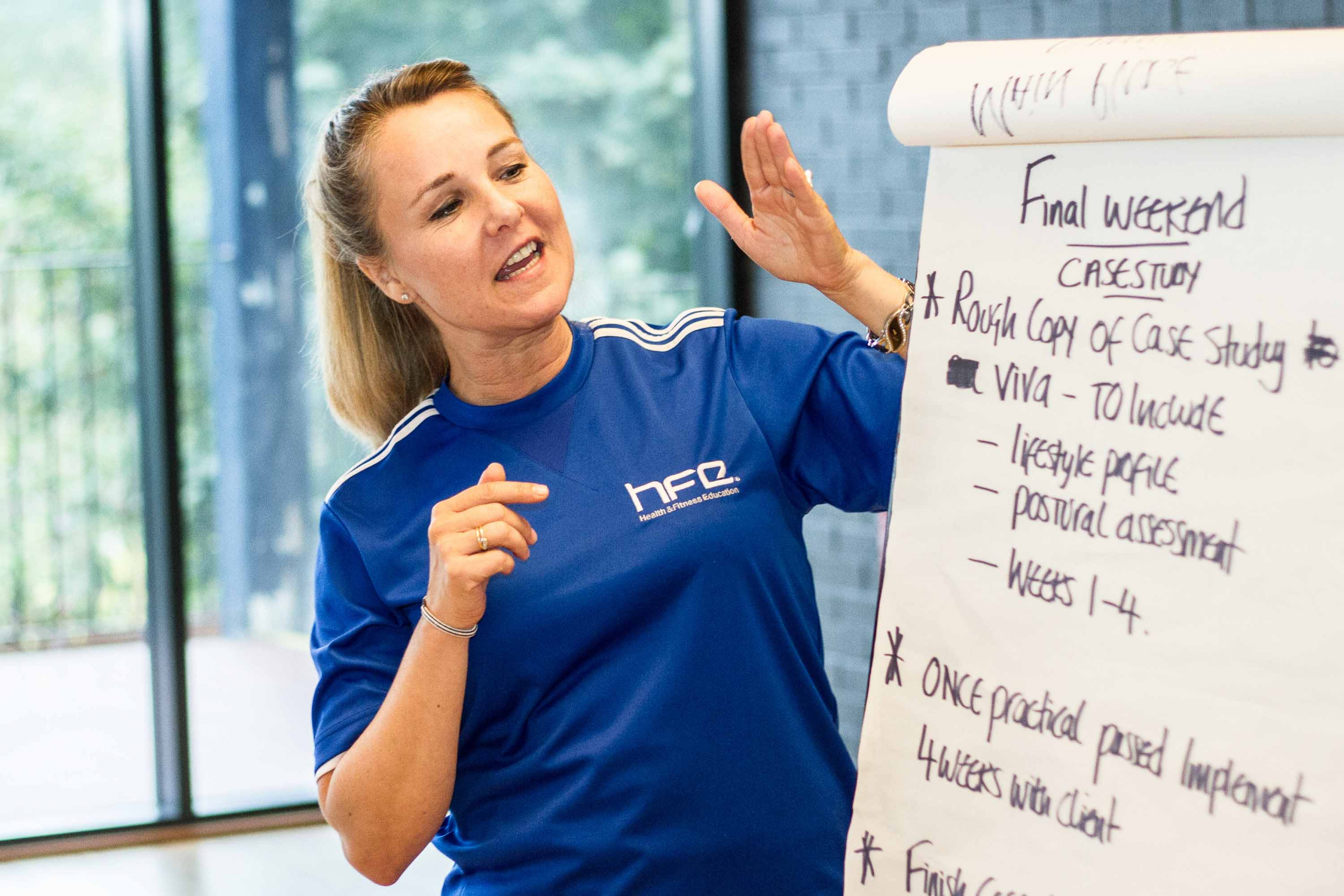 Blended Courses (Home-Study With Attendance)
With advances in learning technology, it's now possible to qualify as a professional Pilates teacher on a part-time basis, completing the knowledge elements of the programme through home-study and remote tutor support, then undertaking the practical elements of the training in-person at a dedicated training facility.
Blended courses provide a great deal of flexibility because you get to study at your own pace, and you can spend as much time as you like completing the knowledge elements. The only fixed part of the course is usually the practical training days, although most qualifications do have a deadline and end date, just to help to keep you focused!
Most of our Pilates qualifications are delivered in a blended format, with students typically completing around 8-10 weeks of supported home-study, followed by 6-days of face-to-face training (usually at weekends).
While blended courses offer a great deal of flexibility, you do need to be sure that you can find enough time to complete the home-study learning and coursework– we typically advise about an hour or so per day.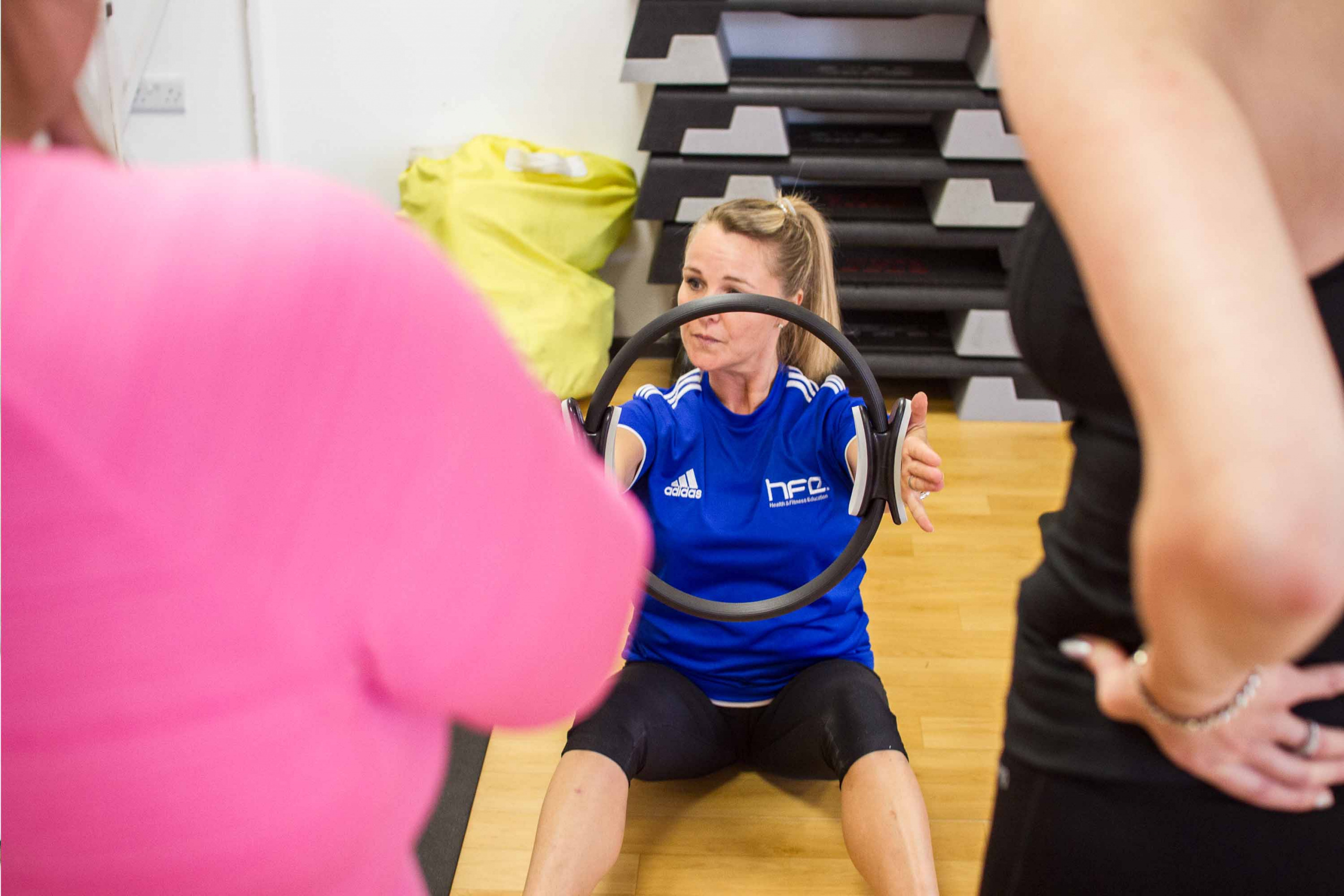 In Pilates, there are a number of different modes of Pilates (e.g. mat, reformer) and across these modes, there is a wide-range of Pilates equipment (although the founder, Joseph Pilates, referred to this as apparatus). Here at HFE, we currently have a range of blended Pilates courses and qualifications, including the Level 3 Mat Pilates Teacher Qualification and our flagship Reformer Pilates Courses.
Online and Virtual Pilates Courses
Online Pilates courses have started to become more popular in recent years, especially throughout the COVID-19 lockdown period. Most of the completely online and on-demand courses, which are typically delivered by pre-recorded video, don't lead to a formal Pilates qualification because Ofqual and awarding bodies responsible for regulating these qualifications, require a certain amount of face-to-face training to be completed.
Unregulated qualifications don't have to comply with these requirements, which is why they can deliver entirely online. However, these courses are often less recognised by employers, professional bodies (e.g. CIMSPA) and insurance providers, so you may have problems further down the line.
Virtual Pilates teacher courses can provide a great compromise between online and blended formats because they offer all the flexibility of a blended course with regards to the home-study, but then allow students to complete all the practical work in a virtual (streamed online) environment, which can be completed from anywhere in the world, as long as they have a Pilates mat. Because the virtual training is live rather than pre-recorded, they are considered viable methods of delivery by awarding bodies and Ofqual. This makes them very attractive!
While we don't deliver online, on-demand Pilates qualifications, we do have a range of virtual Pilates qualifications scheduled throughout the year. While our virtual courses are truly excellent and provide a world-class level of Pilates education, those students that like social interaction do tend to prefer attended formats. Another drawback of a virtual programme is that you won't be able to physically correct your client's techniques because they aren't physically in front of you – so you do need to be extra accurate with your verbal instructions.
Many students are drawn to the virtual format because they are planning on teaching their Pilates classes virtually once they qualify. Completing their training in this way can really help them to prepare for teaching in this way and they get the opportunity to see first-hand how our tutors work effectively in this space.
Here at HFE, we have a number of virtual Pilates courses available.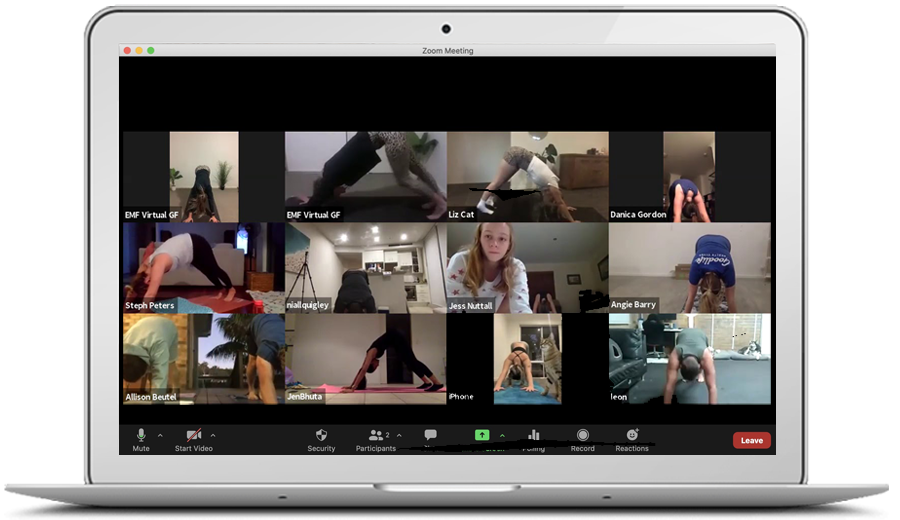 Why Qualifications Matter in Pilates?
Finally, it's necessary to underline the importance of getting a regulated Pilates qualification rather than just a certificate from a training provider – the two are not the same!
With Pilates, there are a number of studios and brands delivering their own interpretations of the Pilates methods and off the back of this, delivering their own instructor programmes. While these instructor programmes may (or may not) be good in terms of quality, they aren't qualifications. The only qualification in Pilates is the Level 3 Diploma in Teaching Mat Pilates.
There is only one regulated qualification to become a qualified mat-based Pilates teacher and that is the Level 3 Diploma in Teaching Mat Pilates. While it is available through a number of awarding organisations (e.g YMCA Awards, Active IQ), if it isn't regulated by Ofqual, it isn't a qualification!
A regulated qualification is issued by an Ofqual regulated awarding organisation, like YMCA Awards and Active IQ for example, and these qualifications are written by subject specialists and extensively quality assured to ensure that you get a universally accepted level of training and assessment. They are seen by many as a passport of competence.
While there are other Pilates teacher programmes on the market, most of these are not transferable and are only recognised by that organisation. As such, they can be seen more as licenses to deliver that particular brand/style of Pilates, rather than a qualification. Again, you may encounter problems when looking for insurance or employment.
If you want to maximise your future career prospects, we strongly advise that you stick with regulated qualifications first, then use non-regulated training for CPD (continuing professional development) purposes later on. That way, you're covered either way…
We hope that you found this guide useful. If you do have any further questions or concerns, please feel free to contact a member of our Careers Team who will be more than happy to assist you.
Good luck with your next steps, whatever they may be.
Back to articles