Apprenticeships represent a thriving part of the UK economy and no one is more keenly aware of this than HFE and the partners we work with. For several years now, we've helped recruit and train countless fitness apprentices.
A common practice for employers is to retain apprentices once their apprentice is complete and offer them long term employment. This is exactly what happened with Lauren Thompson, who started her fitness career at Wrightington Hotel and Country Club.
After successfully completing her Fitness Instructor apprenticeship, Lauren is now pursuing her Level 3 Personal Training qualification. What's more, she's also been promoted to Duty Manager. As you'll read below, it's been thoroughly well deserved.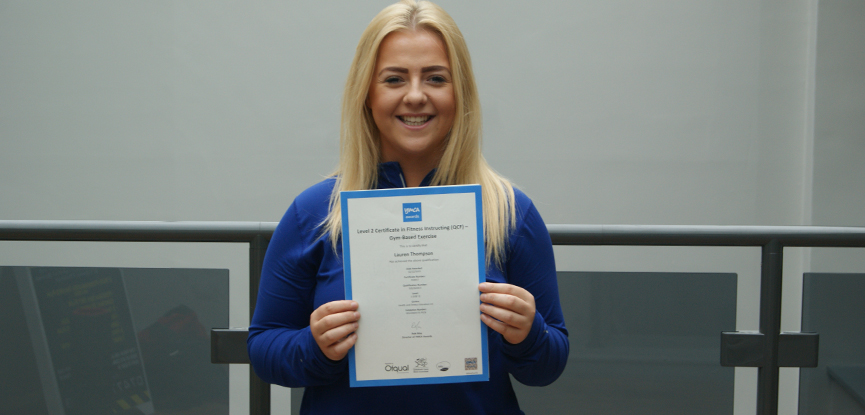 We recently caught up with Lauren to find out what the apprenticeship experience has really been like.
Tell us a bit about yourself and how you became an apprentice…
I left school having achieved all the grades I needed to attend the college of my choice and study the course I thought was for me. However, coming up to the end of my first year I started to look on the internet for jobs and apprenticeships. I'd finally realised college wasn't for me and I was losing all interest. That's when I came across the Level 2 apprenticeship with HFE. I applied and got an interview which I passed, I was then asked to start on the following Monday.
I have always enjoyed sports, whether it was playing, teaching, or being part of a team. I never thought until now I could have a career in this industry.
Over the course of your apprenticeship what have been some of your most memorable moments?
There have been many moments I have thoroughly enjoyed, however my most memorable moment has to be the weekends away in Manchester. The two practical weekends involved learning how to produce and perform an induction. It involved creating exercise plans and learning Level 2 Anatomy and Physiology.
What's it been like studying with HFE for your Level 2 qualification?
I loved studying for my Level 2 with HFE as my tutor Danielle was always there when I needed help. Either a phone call or email an away. Also HFE, have a learner management system where you have your own login and it is set up for your course, they come out once a month to visit you and set you work and provide you with learning manuals. I think these different learning strategies really helped me as the learning is always different.
Now that you're a qualified gym instructor, what does the future hold for you?
After qualifying, I then signed up to do my Level 3 Personal Training with HFE. After my 12 months apprenticeship finished, Wrightington also offered me the role of Duty Manager, which meant I also participated in a first aid course and gained my First Aid at Work qualification.
And finally, what advice would you give to new fitness apprentices?
I think the key to entering the fitness industry and taking part in a fitness apprentice is enjoying every minute of it. If you enjoy sports and fitness HFE is definitely recommended.
We also talked to Wrightington's Leisure Manager Paddy Allen, who had nothing but praise for Lauren:
"Lauren has been the model apprentice. From the very start she's been eager to listen and learn. She has an extremely professional attitude when it comes to dealing with all tasks, coupled with a great ability to communicate up and down the various levels of staff and management. Lauren has quickly become a great asset to the club, hence she has been offered long term employment."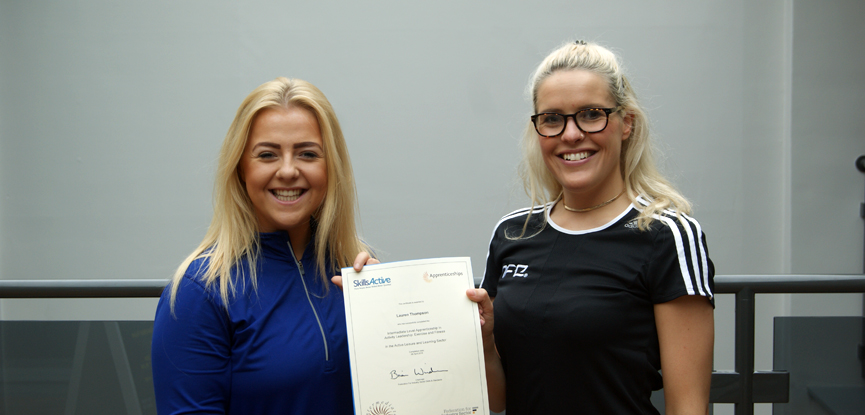 Finally, HFE support tutor Danielle Sharrock, who has worked closely with Lauren over the past 12 months, had this to say.
"Lauren is an example of what I'd like to call a perfect student. She always turned up on time, was incredibly quick to have her work completed and she's incredibly passionate and enthusiastic about the industry she works in. During her apprenticeship, Lauren was forever keen to develop her current skills and learn new ones. She's worked incredibly hard in the past 12 months and has thoroughly deserved to be promoted. I personally believe that the future is going to be very bright for Lauren."