Leadership, discipline, professionalism and fitness are traits that almost all military personnel possess which, is why a career in the fitness profession seems like the most logical and natural next step after a life in the Armed Forces.
If you are considering leaving the military, or have recently left, our dedicated careers advisors will be able to give you objective and impartial advice on what you will need to get your career off to a flying start.
In addition to our high-quality training programmes, excellent pass rates and fanatical level of support, there are also a number of other ways in which we can provide that little extra support for military service leavers, including:
Careers Transition Partnership
Enhanced Learning Credits Scheme
Careers Transition Partnership
The Careers Transition Partnership (CTP) is a Ministry of Defense (MOD) initiative that seeks to provide objective and impartial information, guidance and support for service leavers. The CTP serves to help military service leavers make a successful transition to civilian life and can provide support on training, education, employment, housing, finance and benefits.
Health and Fitness Education is a preferred supplier to the CTP and as such is well positioned to help anyone currently serving, or who is considering leaving service, launch their career in the fitness industry.
Fore more information about how we can help, contact our careers advisors today.


Enhanced Learning Credits Scheme (ELCAS)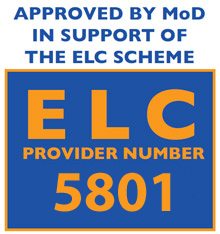 The Enhanced Learning Credit Scheme (ELCAS) is an MOD initiative that promotes lifelong learning amongst members of the armed forces. Depending on the applicant's length of service and the number of previous claims made, the ELCAS can support up to 80% of the course fees for any qualification at Level 3 or above in a maximum of 3 separate financial years.
Health and Fitness Education is an approved provider (5801) of the Enhanced Leaning Credits Scheme and as such has demonstrated that it meets all of the MOD's procurement requirements for training and education. For more information about how we can help you access your ELCAS entitlement, please contact one of our careers advisors today on 01772 641 091.

Applying for Enhanced Learning Credit:
Complete the ELCAS application form to apply for your credits
ELCAS will send you a Claim Authorisation Note (CAN)- post or email this to our careers team
Make HFE booking and pay 20% course contribution
Start studying- we'll take care of the rest
For more information about applying for Enhanced Learning Credits, click here