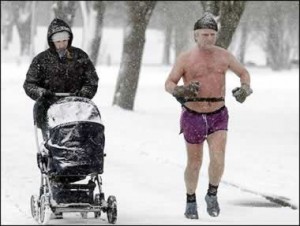 This time of year, with limited daylight hours, low temperatures and unpredictable weather, it is tricky for personal trainer and other fitness professionals to exercise outdoors with their clients. Those who love running and cycling are put off by poor road surfaces and dim daylight, and even the most hardcore bootcamp devotee might be forgiven for not wanting to do burpees in the mud and/or frost. How can fitness professionals help keen clients maintaining a fitness programme over Winter?
Indoor cycling and Spinning are still popular modes of exercise with a slowly increasing participation, even though they have been around forever! This hard, interval-style cardio workout is a great idea for clients who want to keep CV fitness up over the Winter. It's also a great addition for anyone who doesn't currently do a lot of cardio, and will certainly boost fitness. Indoor cycling has a tough image and tends to produce plenty of sweat, making it ideal for clients who like to feel as if they've been worked really hard during training sessions.
Strength training is rising in popularity with all sorts of clients, and Winter is traditionally the ideal time to head into the gym and make some strength and power gains. If your client plays sport, competetively or recreationally, they could make some useful gains by strength training over Winter. Non-sporty clients who train for fitness and weight loss should also be encouraged to train with weights, and now is the perfect time of year to get them started.
If you train clients who take part in sports (whether that's endurance sports, team sports or racquet sports), winter may be their off-season. That's no reason for them to lose any of their fitness, though. In fact Winter can be a very useful time for amateur sportspeople; away from the pressure of competition, they can head indoors to work on skills and drills, speed, power, conditioning and strength. Are their competitors doing the same? Winter could turn into a vital time for your client to improve for the coming season.
For clients who dislike group training and classes, there is always the option of training at home with a PT. A few bits of kit, provided by the fitness professional, can turn even the smallest space into a useful workout area. Resistance bands, foam rollers, handweights and kettlebells are some simply and relatively small items which could enable you to continue training clients who prefer not to train in a gym or studio setting.
Keeping a consistent client base is important for any fitness professional. Having a good set of solutions to the challenge of Winter training will be crucial if you want to keep your fitness business buoyant over the dark, cold months ahead. Keep your clients motivated, active and training hard and they will still be with you next Summer!