Lauren Broome is an HFE yoga graduate and creator of Yoga Spirit UK, a mobile yoga business in the north-west. We talked to Lauren about her yoga journey and the importance of helping others.
Photography kindly provided by Helen Kimber of Hero Lifestyle. 
How did you first discover yoga and what about the practice appeals to you the most?
I started practising when I was just 20 years old, being initially attracted by the control of breath. I always thought I was destined to be unhealthy because I hated the feeling of gasping for breath during cardio work. I started with internet videos which I would sometimes take into the garden or the park.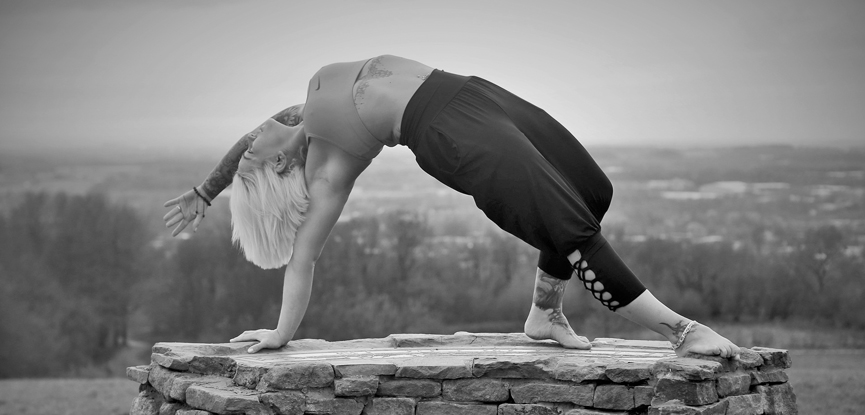 I found that the movement and exploring the wonderful shapes my body can make was most appealing to me – even back then, as a beginner!
As you say on your website, there came a time when you felt like you had to reboot yourself, something I'm sure many people can relate to. What made you sure that first studying and then teaching yoga was the way to go?
When I say 'reboot myself' there were so many aspects of my life that I wanted to change for all the wrong reasons. My reboot is about the way I think. Like many people, the fitness aspect of yoga attracted me and kept me entertained until the true dedication began. It took me around eight months to become wholly and completely hooked to my practice.
I thought that if I can teach this wonderful practice to others, maybe I could make a difference to their lives
I suffered during my school years with being bullied because of my appearance. Whilst I came through this difficult time, yoga connected me to the scars that were left behind. I had continued to suffer from low self-esteem, lack of confidence in myself as a woman and even body dysmorphia.
Yoga taught me that every individual body is a miracle in its own way. Every lump, bump and wrinkle serves a purpose or tells a story. That's the true lesson that took me all these years to learn.
I began to feel at peace with myself, even in stressful situations. I became a more compassionate person who searched for the good in everybody and forgave those who attempted to disturb my peace. I thought that if I can teach this wonderful practice to others, maybe I could make a difference to their lives. This is what drove me to study and then teach yoga. If you can support someone through difficult times and rejoice with them when they overcome their obstacles, what more can you wish for.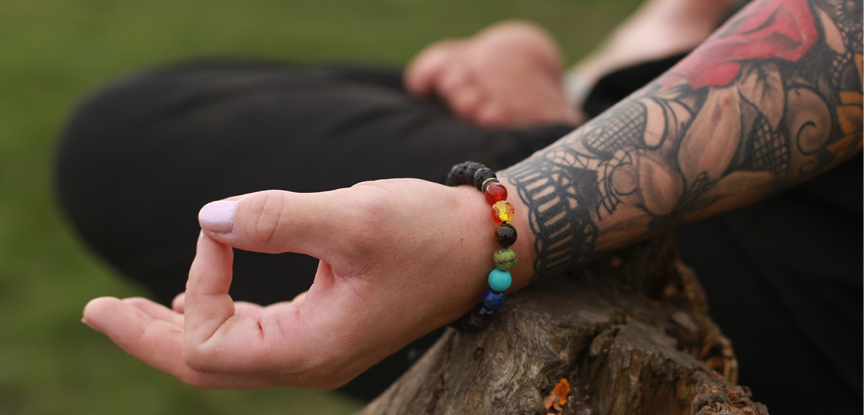 The more people I meet, the more stories I hear, which in turn allows a degree of perspective. These wonderful people that form the foundation of my business are the energy I choose to be around. My sessions are not simply yoga, they are support, they are social and most importantly they are nonjudgmental spaces where we can express our movement and emotion as one. Body and soul.
You have three fitness qualifications from HFE under your belt, what about your training have you enjoyed the most?
When I decided to train with HFE, I was already committed to a degree in English literature. It was a scary step to take through fear of overloading myself. This connects to my 'reboot' as well. At the time I worked part-time at Sports Direct, I was underwhelmed by my daily routine and thought that anything beyond those boundaries was too much.
Thank God for the staff at HFE were as supportive as they were because I signed up there and then – not ashamed to say I did a nervous dance the minute we hung up.
For my first qualification, I attended multiple weekends where I met a group of aspiring yogis, whom I am still closely connected to today. Alongside my qualifications, I also walked away with a network of yoga teachers that I can proudly call my friends. The weekends were hosted at a venue in Manchester and were thoroughly enjoyable and fun. We were all learners and still are. That's the beauty of yoga, you can never know it all.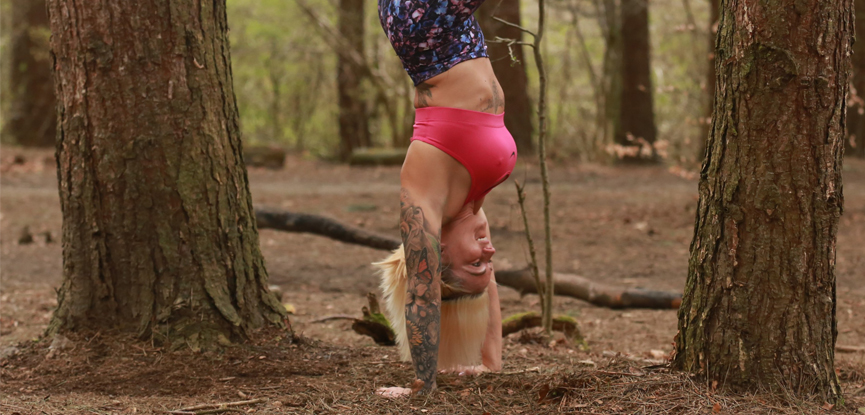 When I returned to expand my knowledge, it was a little more independent. This in itself is something to be excited about and something to be proud of. Whilst I didn't have the support of fellow yogis I realised that I'm more than capable of supporting myself when necessary. This element of confidence is new to me but has continued to grow and expand to the point where I believe I can achieve anything I set my mind to.
What do you find most rewarding about teaching yoga?
For me, the most rewarding aspect of teaching yoga is to motivate people. I will always include a challenge or two into my session because I've stood exactly where they stand, not knowing my own potential.
When I demonstrate a tricky posture, I can see the fear of failure on their faces, then step by step I guide them through it and the moment they achieve the posture I see my students so proud of themselves, and they should be. This is the reason I teach. Where they surprise themselves and leave feeling empowered and motivated. I must say five times a day: 'Do not underestimate yourself'. We are all a little guilty of that.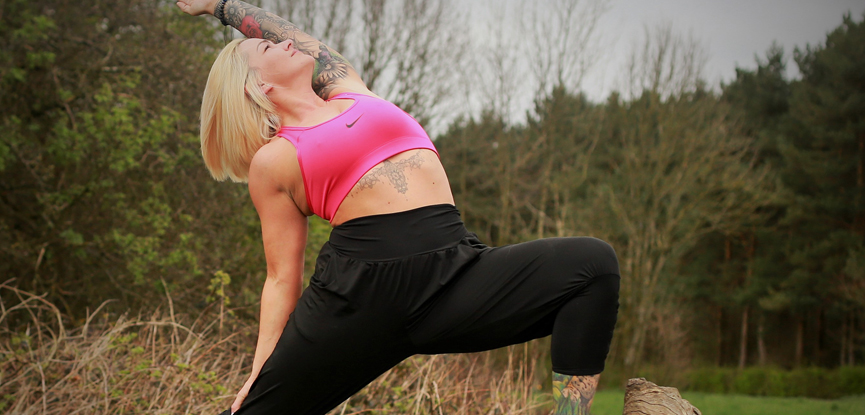 I'd like to share an inspiring story with you. I have a lady who is 91 in a private session every week. When she first approached me, I chatted with her about her goals and her targets and I felt confident I could help her. The main ailment she spoke of was her inability to move her fingers properly. She showed levels of determination that I've never seen before. We worked every week on mobility and confidence. To cut a long story short it was only last week, she came to me moving her fingers without pain and told me she was able to knit her great-grandson an outfit. By far the proudest moment I've had as a yoga teacher.
How do you see yourself growing as a yoga teacher in the coming months and even years? Similarly, what are your long-term plans for Yoga Spirit?
I'm growing all the time. Every person I meet introduces me to a new outlook on my business. The one thing nobody warns you about is the business side of things. Learning to market and advertise, whilst caring for your students and earning enough money to support my family. It's hard work.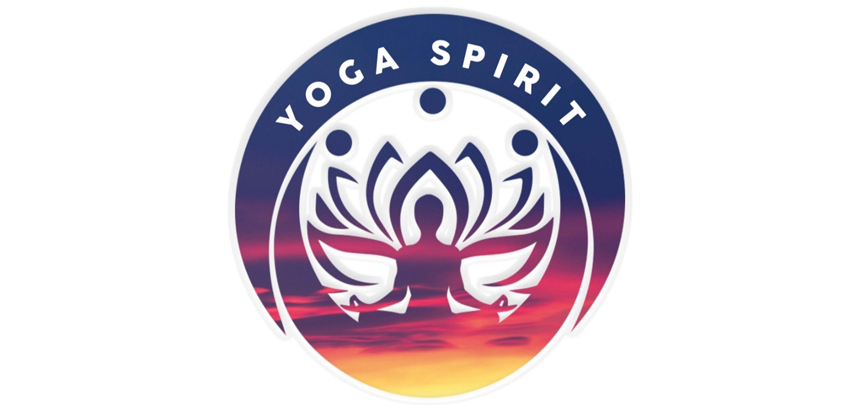 I'm always learning and always willing to learn (I believe a business's worst attribute is thinking they know it all) I work on one thing at a time, I pace myself but I get things done. I'm currently working on introducing a weekly pregnancy yoga class to my ever-growing schedule, right after I celebrate Yoga Spirit's first birthday! I'm supporting three of my students as they train for their own yoga teacher training diplomas.
This, in turn, has encouraged me to consider expanding the Yoga Spirit team. So, I'd say in the future I'm looking to employ equally motivated individuals so that the Yoga Spirit brand can stretch further and touch the lives of more and more people every week.