The Measure of a Training Provider
If you are looking to join the fitness profession, right now you are probably overwhelmed with the sheer amount of choice, and the vast number of providers claiming to be the best. While we would love nothing more for you to choose us, we also want to make sure that you get the right provider for you, and in some cases this may not always be us. In our attempt to help you find the right fitness training provider, we have put the following 6 step guide together:
1. Check that the course you enrol on leads to a nationally accredited qualification.
The emphasis here is on qualification- many providers certificate their own programmes and so aren't delivering awarding body qualifications. Make sure the personal trainer or fitness instructor course you enrol on will provide you with an awarding body qualification (CYQ, Active IQ). All of the qualifications delivered here at Innervate Training are awarded by Central YMCA Qualifications (CYQ).
2. Make sure that your course is worth 20 REPs CPD points.
To further check the status of the course you are considering, ensure that it is fully recognised by the Register of Exercise professionals (REPs) and that it is accredited with 20 CPD points. Programmes which carry 16 points or less are generally not qualifications, and are usually described as continuing professional development (CPD) courses.
3. Check the method of delivery and the amount of contact/teaching time you will receive (excluding your assessments).
Here at Innervate Training we deliver blended-learning programmes requiring weekend attendance, and self-study before and during the physical contact. Some companies may offer more convenient, single-weekend programmes however the amount of training and tutelage you will receive will be minimal. These are also likely to be the companies that will charge much larger sums for re-assessment should you refer! 
4. Don't fall for the guaranteed interview scam!
Many training providers in the fitness sector have teamed up with health club chains like Fitness First, LA Fitness, and to a lesser extent DW Sports Fitness to offer graduates of their training courses with guaranteed interviews upon completion of their programmes. This all sounds extremely exciting except what they don't tell you is that these interviews are for self-employed positions, where you will be required to pay a weekly rent to work in the club. That's right; they guarantee you an interview to work for yourself. We aren't opposed to the notion of paying a rent in a health club to practice, quite the opposite and many personal trainers make a great living from this arrangement. What we are however averse to us the misleading tactics other providers will use to get you to enrol on their courses. Any qualified fitness professional will get an interview in the aforementioned clubs for self-employed positions, largely because they represent another source of income to the business from rent.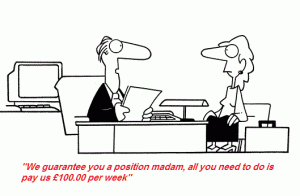 5. As for a sample of the learning materials before you enrol.
Many training providers use 'off the shelf' resources which they purchase from the awarding body organisation. While these materials do have some good content in them, they are written from a 'one-size fits all' perspective and with little consideration to how the course will be delivered. These materials are also usually poorly illustrated and printed in black and white. It is also worth noting that because the companies using these resources don't invest time, energy, expertise and cost in producing their own materials, the delivery of their practical training is likely to be of a similar standard. Here at Innervate Training we only use our own materials, which are produced by our team of experts who also work to deliver our training programmes. Should you wish to see a sample of these resources before you enrol, please do not hesitate to contact us.
Should you have any further questions or concerns about choosing the right provider, please do not hesitate to contact us. We know that our delivery style doesn't always suit everyone's needs and some people may want a more full-time or weekday programme. Either way we would love to help you get your career off to a flying start, irrespective of whether it is with us or not.