You've had an incredibly varied sports and fitness career to date, with everything from bodybuilding to American football, what have been some of your most notable highlights to date?
Looking back on my life, I have had the privilege of doing so many different things in sport. In high school I played water polo, swam and played football. American high schools have three seasons and you can you play one to three sports in a year. Playing three is called being All-Star so we swam, played water polo and football in the same year. Then playing for my university USC was a very exciting opportunity as well.
I got injured the first month of my freshman year and broke my hip – so that definitely soured things a little. Honestly, I did not have next level amazing professional potential anyways (so I tell myself!) but it was still amazing to be part of a world class team like that. Post my injury after college, I got into bodybuilding because I really needed something to pick me back up and get me back going after such a tough injury break. I was not going to just give up for sure! Bodybuilding was something that I could do and control and I think one of my highlights there was my very first trainer who introduced me to the world of bodybuilding.
At the time he was up and coming and not really known outside of bodybuilding community – and that was Jay Cutler.  He's a four time Mr Olympia champion and at the time he just moved to southern California with his wife from Chicago. So he was my first trainer and my first experience in the world of bodybuilding! Having someone at the absolute pinnacle of the sport working with me gave me an amazing education, ethos and  pushed me in the right direction. I went on to compete and win titles in California, Illinois and London.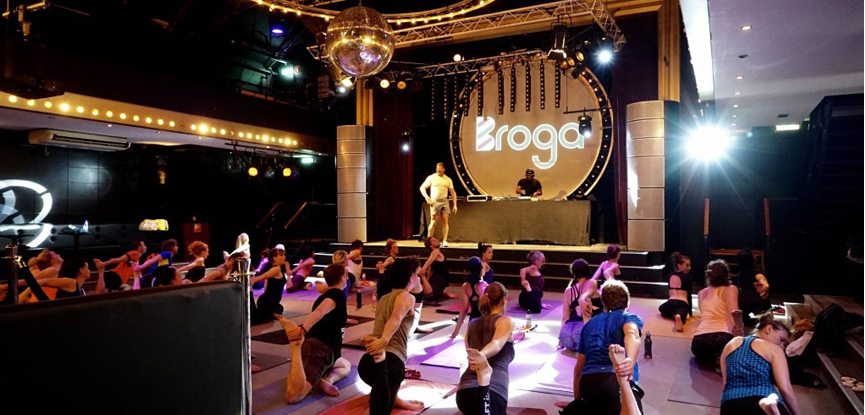 Cut to now. After all that sport and activity, no one tells you that your body in going to start crumbling!  So I fell into yoga as way of piecing myself back together from two new hips and two new shoulder surgeries.  And in the process I inadvertently and completely unexpectedly founded a fitness yoga brand called Broga®.
Considering how successful you have been and still are, some may find it surprising you still have time for one-to-one training. What is it about working on-hands with clients that you still find appealing?
Someone asked me this the other day and they couldn't believe I still did one-on-one training. At first I thought it was a weird question but then again I don't really know what people's perception of me is. I think that no matter what kind of professional you are, say a famous doctor or a teacher, you still have to get your hands dirty to stay relevant. The minute you step away into a purely administration role and you lose touch with what you are actually working with in my view.
I think there is this perception that a being a PT is a lowly job that anyone can sign up for a month long course and be qualified for.  I've never looked down at myself for doing one-to-one PT work even with the other projects that I have. I honestly value what I give to clients and how I can effect real physical and mental change in them , so why give that up? And I don't see why I can't run an empire and still have some clients. Will that continue forever? No, but I'm going to keep it for as long as I can.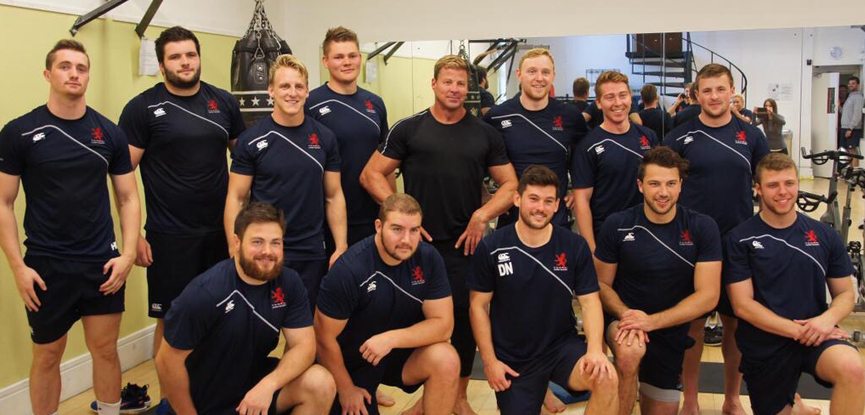 Also, I have clients that I physically can't get rid of! I've tried to fire them and they've literally just said 'no'. Some are eight years running and they keep coming back. Now I try to group the PT work into two days and the rest of time I can focus on my own training and Broga®, as well as other projects.
Many will know you as the founder of Broga®, how and when did your interest in yoga start?
It just happened; I wouldn't say it was by choice. I'd been doing Bikram yoga off and on for the last ten years but honestly probably more off than on. I knew it was good, I got the value of it but I wasn't making it a priority. At the time I was working on a TV show for Channel 4 called The Fat Fighters and I was contacted through my agent by a woman from Canada, from the clothing brand, Lululemon. I said would meet with her and she told they were about to launch a presence in Europe, specifically London.
They were looking for some key ambassadors and she wanted me to be one of them. I laughed and told her she had the wrong person as clearly I was not the yoga archetype! But they were adamant and wanted me for whatever reason. At the time I weighed 120kgs and I was still competing in bodybuilding competitions so I thought 'fine I'll take the free clothes, sure'.
The joke was on me though, because it ended up being me and six women. And these were the royalty of the yoga world in the UK, not just your random teacher.  Super famous yogis that travelled all over the world, owned studios and yoga resorts… and then there was me. So I was the only non-yogi and the only man. I felt very out of place.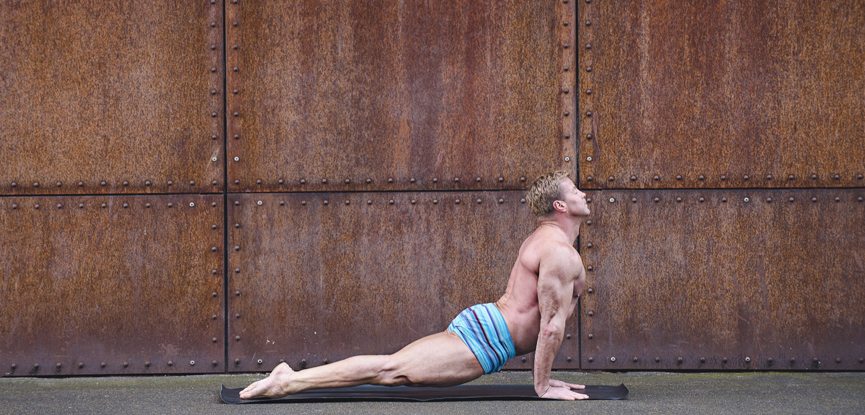 Immediately I started taking private lessons from a couple of them, they worked on my body and it was just a revelation.
What makes Broga® different from traditional yoga classes? Why do you think it's been so popular?
I think it's different in three key ways. Firstly, it's a proper workout, there's a massive fitness element to it. So when you go to classes, you feel like you've gotten your money's worth. I don't like going to yoga classes and not necessarily knowing what the teacher is like and what the class is going to be like.
Secondly, it doesn't assume you know anything. It lets you build up and progress. I also don't like yoga classes where it's assumed that you already know everything and if you don't know something then it's a bit like you're left out of the club. I hate that disconnection. It's not very yoga and it's not a great way to run a group fitness class. So one of my key goal's was to have everybody in the class working really hard to the best of their ability. So much so that you wouldn't actually care if someone was doing something higher level than you because you've got your own stuff to do.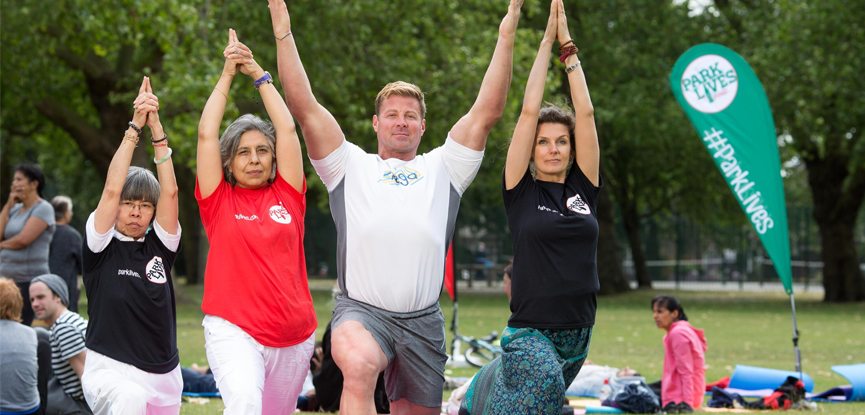 Thirdly, it has this brotherly element, you help each other out. You don't really get that in a yoga class or even generally in group fitness unless it's in say a CrossFit environment. It's about this brotherly idea of doing more together and that's a really valuable part of every class.
Has there been any backlash or negativity from any particular groups or members of the yoga community, with regards to Broga and its image? If so, how are you dealt with that?
Absolutely. I think a certain portion of the yoga world has unfortunately slipped into this idea of what a class should be. People can be really set in their mould and that's not a traditional yoga ideal. Open mind versus fixed every time.  And I get it, it's super expensive to become a 200 hour yoga teacher and it takes a lot of time.
The training course is serious, long and tough. So for us to bring Broga® into the yoga world went against the grain of 'how things are done' and there has been a bit of backlash from more traditional yogis towards those who deliver Broga classes, that they're somehow not real yoga teachers, even if they have a yoga qualification. This is completely untrue.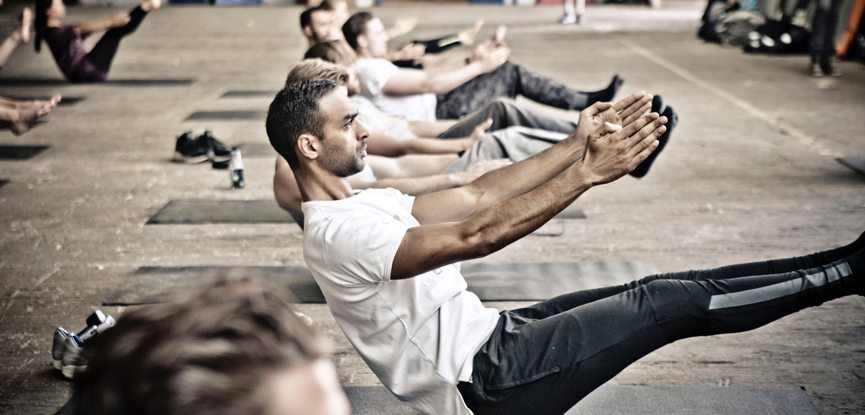 In a Broga® class, our instructors are queuing postures , correcting anatomy and explaning the importance of posture and breathing much more than the majority of regular yoga classes I attend. I'm really proud of what we do and the way we teach Broga®. It's relevant to today's market and customer but still authentic to yoga I feel. When you have anything that's new, there's always going to be backlash from the old guard who doesn't want things to change.  All I can do is keep moving forward and helping as many people as I can find a comfortable place on a mat.
Finally, what's the best piece of advice you can give to new fitness professionals, particularly personal trainers?
Specifically thinking about personal trainers, you can't become a PT and be obsessed with your own body and what you can do with it. You have to be passionate about helping other people. I see so many trainers who get into personal training because they've had success with their own bodies and they're excited about it and proud of themselves, but they aren't actually passionate about helping other people. It's more about a self-journey.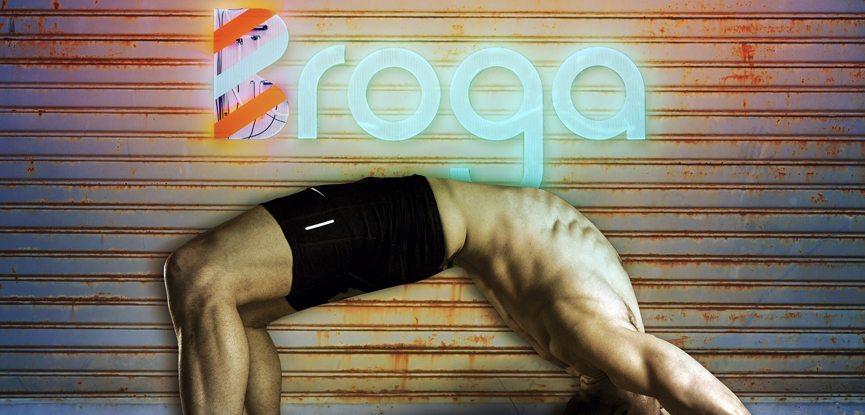 I don't think that makes for a very successful PT. It's very competitive out there. Once you have passion for helping other people you can start to think about how you can make a real success of it when you're in the face of competition from YouTube videos, apps, podcasts etc. Right now there's so much out there digitally to help people with their exercise programmes. You've got to be knowledgeable not just about exercise but know about and be able to lift up the whole person.
You need to be able to look at a client and be able to work with them on many different levels. Some of that might not actually be training, the client may have to go away and do stuff on their own but as a personal trainer you need to be seeing the whole picture, even if it's not something you're actually getting paid for. No app can do that.
I also think you have to be able to specialise a little bit. Expand your knowledge beyond your Level 3 training. That could be anything from looking at what professional footballers do for preseason training to what does a ballet dancer do to create long, lengthy muscle lines in their bodies. Or even what does a sports massage therapist do to treat ligament damage. It could be upskilling to yoga and working on people's posture.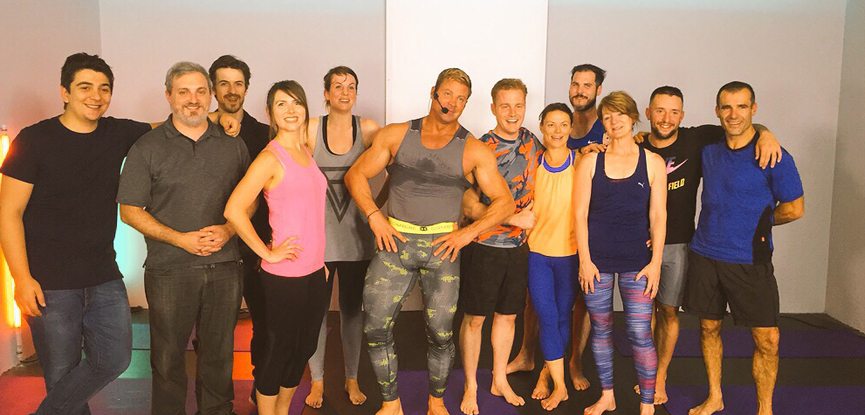 If you have more skills and an expanded knowledge base, you not only set yourself apart from other trainers but you can fend off additional competition from online and free resources. You have the edge because you can actually be there and look at the client and see what they need.
Half of our Broga® instructors are PTs, not yogis. They will teach classes but they will also employ their yoga knowledge into their PT sessions, depending on the needs of the client. So that's a perfect example of using some non-PT knowledge with your PT clients.
Having as many knowledge tools that you can stick in your belt will set you apart from the crowd. Rise above the PTs who, once they get their qualification, make no effort to continue their learning in other ways.
You will continue to love what you do and thrive financially as well.
Why not add another string to your bow and enrol onto a yoga teacher training course today?