Tell us about your fitness and sporting background
Growing up in South Africa, sport played a huge role in my life from young age. I tried nearly every sport at school, including cricket where I was the only girl on the boy's team while. At the age of eight I discovered the wonderful world of running, and as they say the 'rest is history'. I pretty much lived, ate and slept running. I competed in all the school, inter-club and national competitions for cross-country, middle and long distance throughout junior and high school. My results included many provincial and national wins, as well as setting and holding records for many consecutive years throughout my running career.
I would train in the mornings before school, my mum would wake up with me and drive next to me to light my way with the car headlights. She never missed a single race, no matter how much she had to juggle between running her business and being a single parent to seven children. Her constant support and motivation is the reason I was able to achieve everything I did.
My dream was to represent South Africa in the Olympics for middle and long distance however. At the age of 10, my mum signed myself and my siblings up at our local life saving club and this sparked my love for the ocean even more. Having spent every weekend training at the club, it wasn't long before surfing caught my eye and I was determined to give it a try. Surfing was a lot harder than I thought it would be and it took me a while to get in to, but it wasn't long until my competitive side took over and I started competing. Sport opened up so many doors for me and really gave me a direction in life from a young age. I didn't realise the impact it had on my life until I was a bit older and I wanted to be able to share this with others.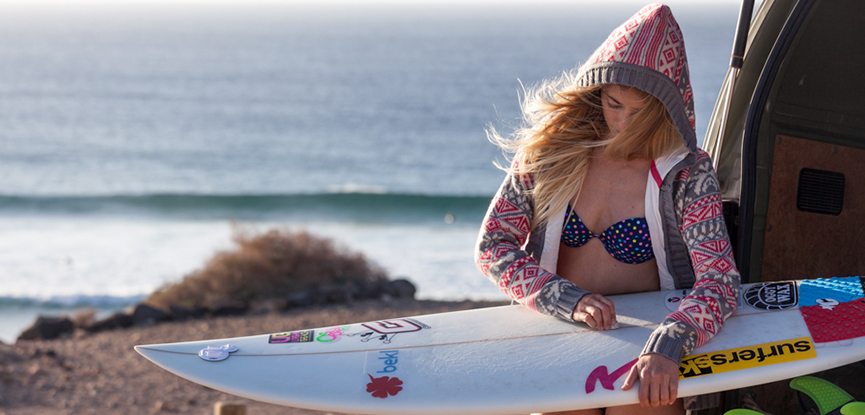 When I was 20 years old my family and I relocated to the UK and I studied in the health and fitness industry, as well as gaining my surf coach and lifeguard qualifications so that I could combine my two passions of surf and fitness to help improve the lives of others.
As someone who's been given celebrity status herself, what's it like training other celebrities?
It is really amazing and I have had the chance to spend time and train various celebrities, actors/actresses, as well as musicians who I have watched or listened to growing up. I have had the chance to get to know so many clients on a personal level and the truth is that they just want to be treated like any other person. One of the things I love about having clients out in Fuerteventura with me to train, is that they are completely 'off the radar' and out of the public eye (besides for the odd social media post). As glamorous and exciting as their lives seem, there is also another side which many of us don't see.
Some clients have had specific goals, such as preparing for an upcoming film which have required them to get into shape fast, while others have been more long-term and sometimes a bit more complicated. I love challenges and I love seeing the transformation of clients, both physically and mentally.
It really is so much fun and I really very blessed to be able to be a part of so many fitness journeys. I have even persuaded a few clients to try their hand at surfing while they have been out on the island training with me. I love having the flexibility to travel for work and seen some of the most beautiful places while working with clients in the UK and abroad.
You've worked with clients who have had severe weight loss and emotional problems, what skills are required to effectively handle sensitive issues?
I think honestly and trust play a huge role. Some clients have been in total denial about their situation while others have thought their situation was 'beyond help'. Clients need to know that no matter what, they are able to believe what I say and be able to trust that I will do the best I can to help them. I have a 100% confidentiality agreement with all my clients and I find that this has really helped me to gain an advantage in the industry.
I am also very blessed to be able to work alongside my family within the industry. My older sister is a Pilates instructor and life coach, who works with many celebrities within the UK and my mum is a dietician. We all work very closely together and I think this has a very positive effect on clients. They like to feel that they have support from a close-knit team and what better team to have than your family, right?
In my experience with clients, the link between how they look (or think they look)and the way they feel emotionally and mentally can sometimes be the most difficult to break. I sometimes can't believe how some people 'see' themselves and how deep their personal issues with their weight or confidence are rooted. Although, I sometimes want to give some clients a good shaking and tell them how talented, capable and beautiful they are, inside and out, but I know that patience is key. I am there to listen, guide, encourage and use my skills to the best of my ability but I know that ultimately the client is the only person who can take control of their lives. I have had some clients who have spent weeks at a time with me in Fuerteventura, some have taken months on and off but the end result has always been incredible. My sister deals with the life coaching side of things and my mom handles the nutrition. It is amazing to be able to work so closely with them.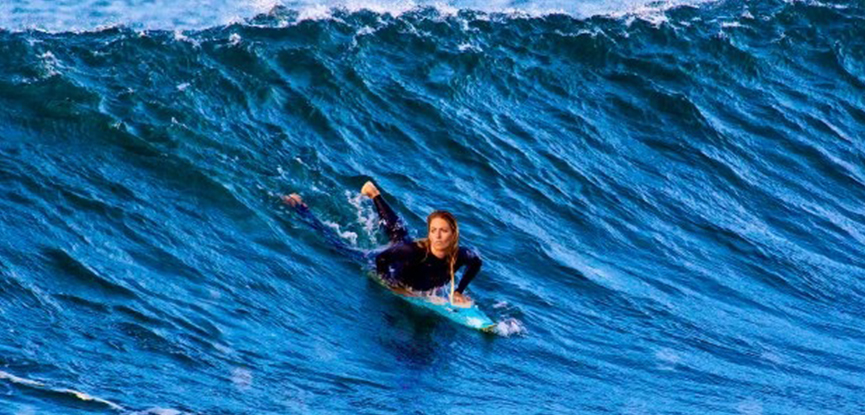 The main point to remember is that this process can not be rushed. Some days you will feel as though you have made break-through progress and other days can feel a bit slower. It doesn't matter how long it takes to reach the destination, the important part is that they (the clients) are learning along the way. In the same respect, I feel as though I am constantly learning myself and I am consistently inspired by the people I have had to honour to work and train with. As my mum says: "Smother them with love and support." It works, trust me!
Whether they end up training celebrities or regular clients, what advice would you give to new personal trainers?
Go for it! If you are truly passionate about it then you will be successful! Whether you break into the celebrity fitness industry or train regular clients, the important thing to remember is to treat everyone the same and put in the same amount of time and effort in with each and every client. There are so many trainers out there, many of them doing more harm than good by using incorrect training techniques. On the same note, there are so many amazing and truly talented trainers who give 100% in everything they do. The thing that will set you apart is to take pride in what you do and do it with all your heart. It is an amazing industry to work in and is unbelievably rewarding. Find your niche and go for it… You won't regret it!
Finally, what does 2016 hold for you?
2016, where to start? I am really excited for this year and to see the exciting opportunities that unfold. At the moment I am in the UK, as I am hosting an online Celebrity Fitness Challenge with David Lloyd Gym in Port Solent until the end of January. The challenge is in support of the British Heart Foundation and has received so much support as well as many generous donations. It feels amazing to be able to give back and support charities. I am really grateful to everyone who has taken part.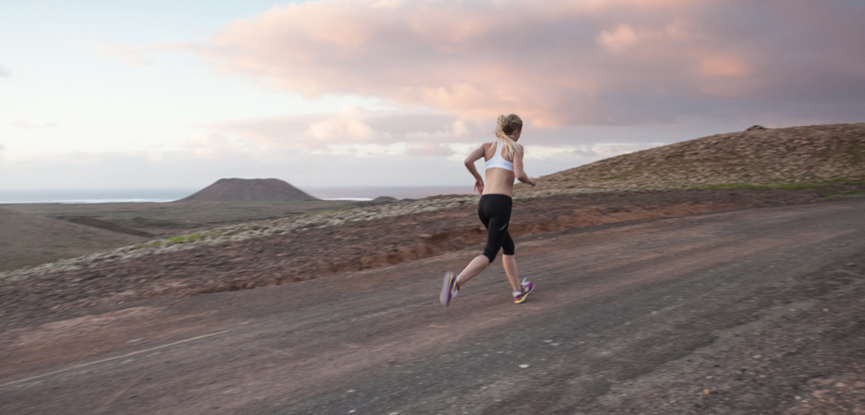 I will be jetting off to my second home, Fuerteventura in the Canary Islands at the end of February to host the first of my All Girls Surf and Fitness Week for 2016 as well as train a few clients. I will then be back in the UK for a while, to host a few surf and fitness weekends around Devon and Cornwall. I am blessed enough to divide my time between the UK and the Canary Islands, depending on my work and competition schedule.
This year is going to be incredibly busy but exciting. I will be expanding my business Ohana Fitness and Surf and competing on the UK Pro Surf Tour, while hosting my surf and fitness tour in the UK throughout summer. I will also be working on some very exciting projects and charity events, while trying to fit in time for studying and balancing the modelling side of my job. If you are about to ask me how I manage it all… I have no idea. Actually I do… it's called 'my mother.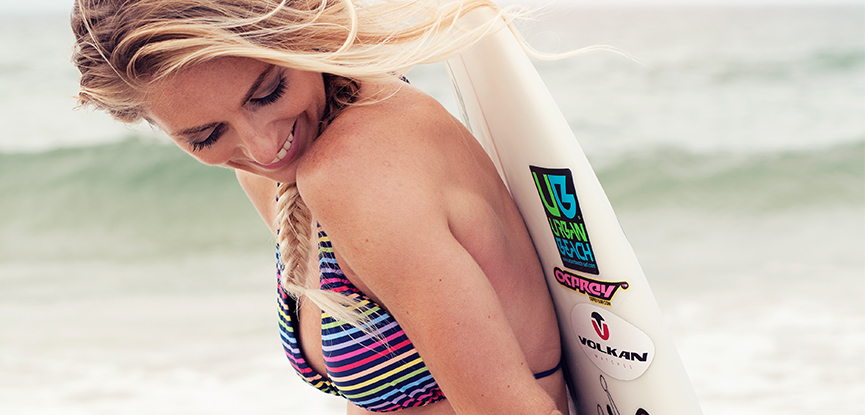 I have learned that I can only plan so far in advance and then I just need to let go and enjoy the wonderful opportunities that present themselves. Sometimes I do feel overwhelmed by everything going on but I know it is all part of the journey, and I know I would be bored with the same routine everyday. All it ever takes is a good cup of coffee/plan making session with my mum and I feel ready to take on the world!
You can learn more about Tehilliah by visiting her website or following her on Twitter.
Photo credits: Julia McInotosh; Mauro Ladu; James Gillespie; Jean-Martine McGuinness