Using the Yellow Jersey to Motivate Your Clients
If you are a fitness instructor or personal trainer looking to inject a little inspiration, motivation and context into your exercise sessions, the Tour de France could provide you with the perfect opportunity to achieve this. Even if you aren't yet an exercise professional, you could still use the event to give your own workouts a little extra spice.
The annual Tour de France event represents the very pinnacle of cycling athleticism and is the ultimate test of muscular endurance and cardiovascular efficiency. This gruelling ultra-endurance event requires a considerable amount of mental toughness, hardiness and sheer determination just to complete the route, let alone win it!
Before we explore how the Tour can be used to motivate and inspire your exercise clients, let us first consider the magnitude of the race and reflect on what a magnificent spectacle of physical human performance this race provides. The Tour, or le Tour as the French like to say, comprises of 21 individual stages which are each scheduled over a 23 day period. Each stage varies considerably in distance between a 32 km (20 miles) and 242.5 km (151 miles) per day depending on the terrain, altitude and the specific route, which changes slightly each year.
In overview format however, there are:
7 flat stages
5 hill stages
6 mountain stages
2 individual time trial stages
1 team time trial stage
Throughout the Tour, riders will cover a total distance of 3404km or 2127.5 miles and will cycle across the Pyrenees, the Alps and the Champs-Elysees mountains at altitudes in excess of 2500 metres above sea level. Since the 2012 Tour when Sir Bradley Wiggins became the first British cyclist to ever win the race, more and more people are taking an active interest in this race. This is why now is such a great opportunity for all those qualified personal trainers and group cycling instructors to use the event to attract more clients and inspire their existing client base to work harder towards the achievement of their goals.
The annual Tour de France event represents the very pinnacle of cycling athleticism and is the ultimate test of muscular endurance and cardiovascular efficiency
Clearly it would be unrealistic to expect even the toughest personal training clients or group exercise participants to complete anywhere near the distances that the elite cyclists perform, but a modified version of the route could certainly be created to simulate some of these demands. Cycling profiles can be used to help cycling participants visualise the journey they are following. These profiles are essentially a map of the road or journey the instructor has planned for the participant, or group and usually show in line graph format how the session progresses in terms of intensity and duration.
These profiles offer a quick and easy way for fitness instructors and personal trainers to plan their sessions, and can be shared with participants before or during the session to provide feedback on progress and performance. In some cases instructors chose to project the profile onto a wall throughout the session, this helps to help set short-term targets for participants within the class and enhances the mood and atmosphere of the session.
The cycling profile provided below is one that we've created to show the final stages of the Tour de France; feel free to use this one in your sessions or visit the Tour de France website where you will get more information on the route and its demands. Participants can be divided into teams, and individual or team times/distances can be recorded or plotted on wall charts, a website, or a notice board to show progress. Time trail events can also be held on specific days within the competition to add even more realism and to further promote competition between teams. It's important to reinforce that individual performance is less important than team performance and so as long as teams are selected equally, and based on fitness level and ability, there is no reason for anyone to feel like they aren't good enough to join in.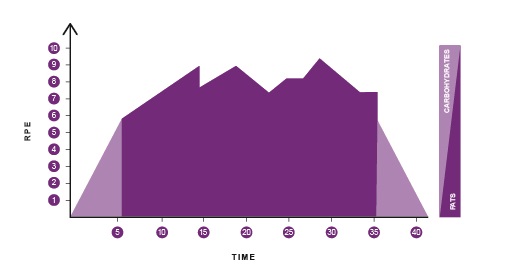 There really is no limit to the number of ways in which you can use the Tour de France theme to boost motivation and enjoyment in your personal training sessions or group exercise classes. The only limits are those imposed by your imagination or lack thereof.