An Interview with
World Champion Swimmer Louise Fiddes
---
Louise Fiddes swam to success in 2018, winning gold at the European Para Championships in breaststroke. A year later she became world champion in the same event and will now be heading to Japan this summer to represent Great Britain at the 2021 Paralympic Games. Louise uses yoga to supplement her intense training plan and is currently completing a yoga instructor course with HFE.
Here's what she had to say when we caught up with her…
Q: How is your preparation for Japan 2021 going?
A: Not as good as I'd like it to be, but pretty good. The training is all geared to it and I have the trials for it in three weeks. I've been within the qualifying times and all the other things I need to tick off I have ticked off so that's good. I am a little nervous but the adrenaline when I swim definitely helps.
Q: How did you first get into swimming? What attracted you to the sport?
A: So, when I was a little kid I almost drowned and from that point onwards my parents really pushed it, and because I almost drowned, I really hated it at the beginning but then it turned into a sort of love in the end.
With my learning disability, it was such a struggle at school so I found swimming to be a way of coping. It also gave me a sense of achievement. With school I would try really hard and not see any results, but then when I tried really hard in the pool I would see results. For me that was really motivating.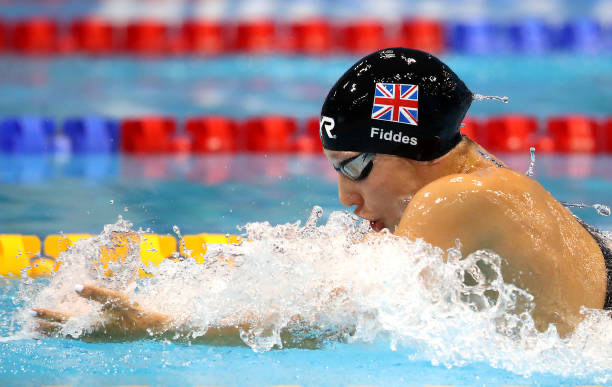 Q: Tell me how you incorporate yoga into your training plan.
A: Generally, on a day-to-day basis, after both my swim sessions I'll relax for a little bit and then just before I go to bed, I will do some yin yoga, or something that's really relaxing, as a way of keeping my flexibility up but it also helps to settle my mind. With training and everything it's very much go-go-go, and it involves a lot of fast-paced stuff so taking that moment to slow down and loosen up is a good way to relax myself and be really in tune with my body.
Q: Where has your interest in yoga come from?
A: We did a yoga session once a few years ago on a training camp and I think that's where it first started. I got my qualification to become a personal trainer and I really wanted to build on that qualification and going into yoga will certainly help with that.
I do yoga most days during the week. At weekends I either go home to see my family or I'm racing so it's more difficult. I like to do yin yoga. I don't tend to do the more intense forms of yoga, because I mainly use it to relax after training.
Q: How are you finding the yoga course you're taking with HFE so far?
A: Really good, the weekend sessions were really helpful and the staff and participants were all really lovely. And because you can do the course at your own pace, it means it really takes a lot of the stress away. The whole experience was really easy and nice.
Q: Why did you choose to do the course with HFE?
A: I saw on your website that you deliver qualifications that I already knew a lot about, such as YMCA Awards. CV Connect stood out to me too, it looks really good. Also, the reviews gave me a lot of confidence that it would be a good course. Then, once I had spoken to the Careers Team it was clear you guys were understanding and the course was really flexible. I thought to myself, this would be the perfect thing for me!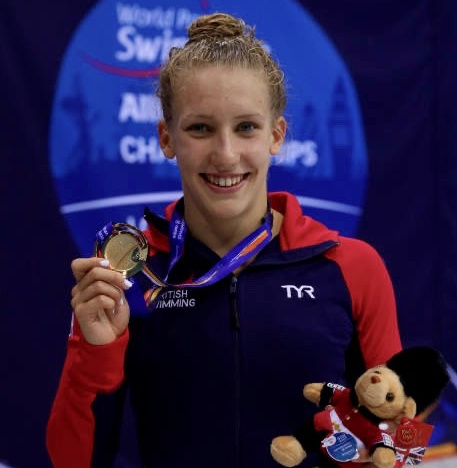 Q: What do you plan to do once you've qualified?
A: It depends if I'm at home or still in Manchester. If I'm still in Manchester then I'd like to run an online course, with clients. If I am at home I'd like to use it to teach a class in a yoga studio.
Q: How important do you class yoga in terms of your swimming, do you see it as an important part of that?
A: Yes, I think it's really important. For one, flexibility is a huge thing, but also to be really calm, and not just before I go to sleep but just before a race too, using breathing exercises to help me calm my nerves. I just find it really useful as a life skill with training.
Q: Have your coaches ever recommended it?
A: Yes, so as I said we did it once on a training camp. Not everybody likes it so they don't force it on us but we do use it. At my home swimming club, the coaches have been sending classes on the group chat for us to use and we've been doing that together so that's been really good.
Q: Are you considering any other qualifications in the future?
A: It depends on what's happening with my swimming really, but I've been considering a Pilates course and possibly a sports therapy course too.
---
You can see Louise Fiddes in action at the Japan 2021 Paralympics this summer.
If you would like to learn more about becoming a yoga instructor, or are interested in booking a yoga instructor course, contact our careers team via the number at the top of the page.