If you're wondering what is involved in becoming a great Sports Nutrition Coach, this guide will tell you all there is to know about this diverse and fascinating role.
Qualified sports nutrition coaches have sufficient knowledge, understanding and skills to be able to tailor nutrition advice and recommendations to the specific needs of individual athletes across a variety of sports (e.g. football, athletics, swimming, running, and cycling etc) and at a range of levels (e.g. amateur, semi-professional).
If you are considering becoming a sports nutrition coach, it is important to be realistic with your expectations in terms of who you will be working with and at what level? Most elite-level clubs and athletes will typically only employ highly experienced nutrition professionals that are educated to degree level, like Registered Sports Nutritionists or Dieticians. These programmes can take 3-5 years to complete, cost tens of thousands of pounds in tuition fees, and often require extensive supervised workplace training and experience before you stand any chance of securing employment in professional sport. If you want to know the difference between these two professionals, then you can read the following Nutritionist and Dietician Article.
In professional sport, the margins between winning and losing are very small (<1%) and the right nutritional strategy can make all the difference between first and second place. At elite levels, it's imperative that athletes can exploit these marginal gains (<1% improvements) if they want to be crowned winners.
Did you know: The winner of the men's 100m final (winning time: 9.80s) at the Tokyo Olympics (2021) only beat the athlete in 2nd place by 0.04s (9.84s), meaning they only ran the race 0.004% quicker!
In an amateur or semi-professional setting, which in reality is where most exercise and sports nutrition coaches are likely to be working, the potential for improvements in performance by optimising an athlete's diet and nutrition strategy are even greater. This is because most amateur and semi-professional athletes won't have the same access to information, support, resources, education, testing, and they are also much more likely to have other commitments (work, family etc) also. So, providing evidence-based, athlete-appropriate nutrition advice and support is likely to have much more than a marginal impact.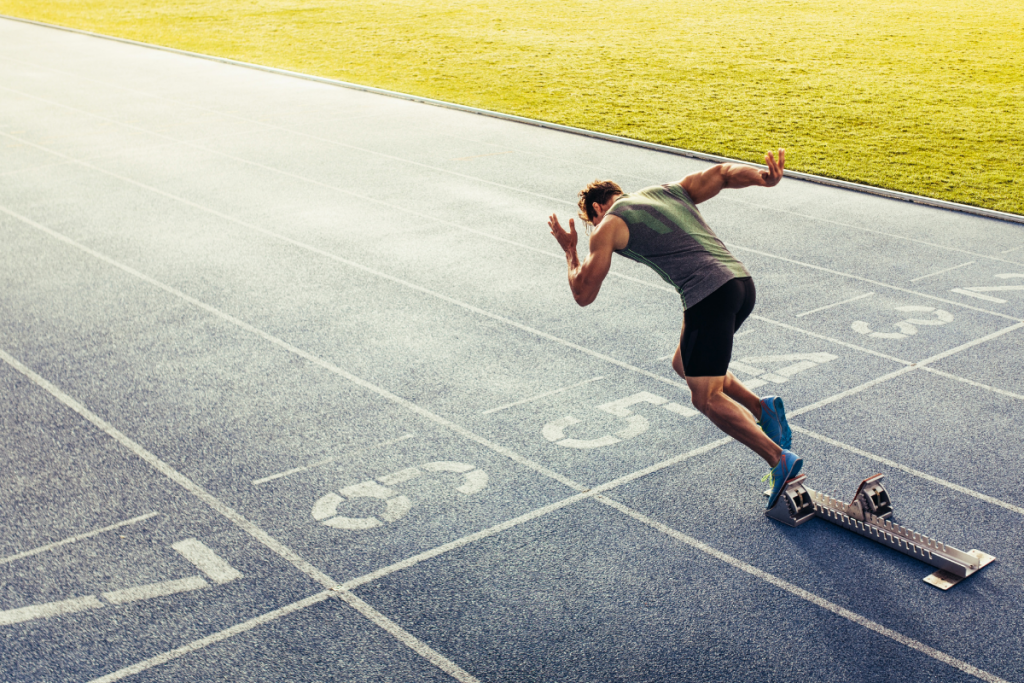 Optimum sports nutrition is an essential part of any athlete's training and preparation for competition. A good diet and nutrition plan will provide the right internal biochemistry for an athlete to reach their true physical potential and it will also help to reduce the risk of injury, overtraining, and illness, all of which will be detrimental to performance. Regardless of how much skill an athlete has, or how hard they train, they'll never be able to outrun a poor diet! This is where a good sports nutrition coach can prove invaluable to an athlete and their success.
Duties of a Sports Nutrition Coach
As a sports nutrition coach, your duties will vary considerably depending on the situation and circumstances that you are employed, the athletes that you are working with and your level of qualification and competence.
Broadly speaking, your role will require you to perform a variety of tasks, including, providing nutrition advice, education and guidance on the following:
• Meeting daily energy/metabolic needs for training/competition
• Macronutrient requirements to fuel sporting performance
• Ideal nutrient timing, including when to eat specific meals/foods
• Effective hydration strategies
• Meeting micronutrient requirements for health, performance and recovery
• Evidence-based benefits of nutrition supplements, including spotting bogus marketing claims
• Effective meal planning and food preparation
When working as a nutrition coach, you should really only be working with healthy athletes. Anyone with specialist needs, like those with eating disorders, nutritional deficiencies, food intolerances or allergies, should generally be referred to a Registered Dietician or Nutritionist. This is because these professionals are classed as healthcare professionals and will be registered with the Health and Care Professions Council (HCPC).
Working as Part of a Team
In more of a structured and formal setting, especially at semi-professional and elite levels, you'll often work alongside other professionals as a key member of a multi-disciplinary team, including:
• strength and conditioning coaches
• sports psychologists
• performance analysists
• sports therapists
• technical coaches
In more amateur and recreational settings, you will typically work more independently, although you may often need to liaise with fitness and coaching staff about key goals, objectives and training activities.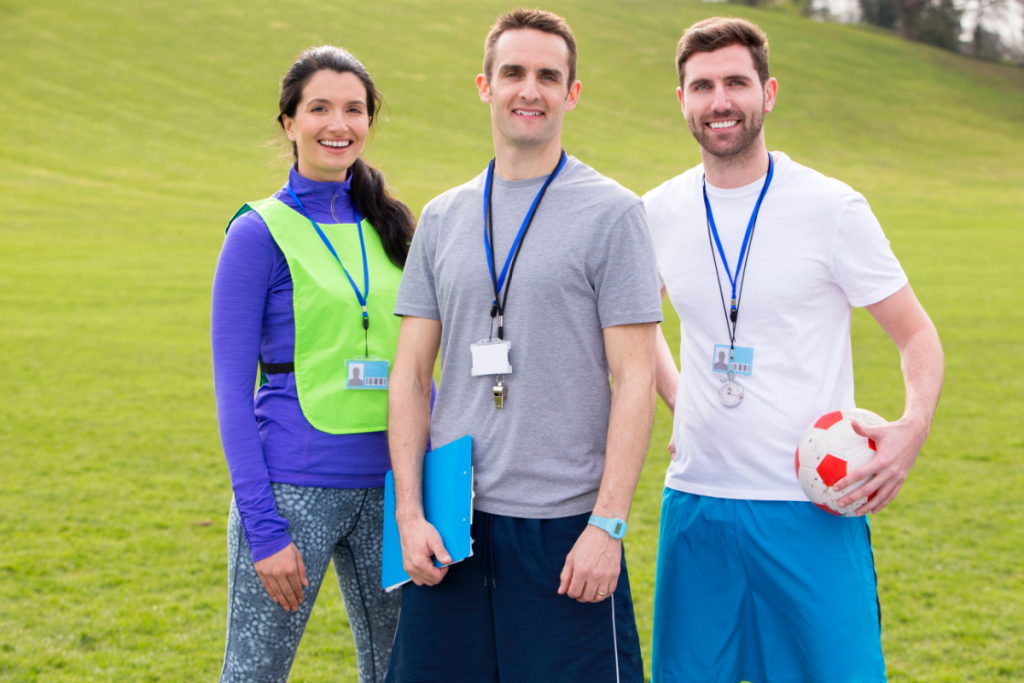 As a nutrition coach, you'll need to be able to work collaboratively with other professionals towards improving their eating habits and practices, with the ultimate goal of enhancing their athletic performance, both in training and competition. You will need to be open minded, creative, empathetic and above all, passionate and focused on helping people to become more than they are. A positive 'can do' attitude will also be really valuable in this role.
Working as a Sole Practitioner
If working in an elite environment isn't for you, then you may wish to consider working for yourself as a solo sports nutrition practitioner working with athletes on more of a one-to-one basis. With the popularity of mass participation events like marathons, triathlons, duathlons, Spartan, Tough Mudder and Ironman being at an all-time high, there are no shortage of serious recreational athletes in need of specialist nutrition advice, support and education. You could even differentiate your services, choosing to provide bespoke nutrition and training support, like the Ironman Coach.
If you are going to work more independently, then you'll most likely need to have a more diverse set of skills, not least because you'll likely need to market and promote your services to attract more clients. After all, if you don't have clients, you don't have a business.
You'll also need to develop a broader and deeper understanding of the sports and athletes with whom you want to work. For example, the fuelling (training and performance) and recovery requirements for playing tennis are very different from running a marathon. Therefore, you'll need to make sure you're aware of the physiological demands of the sports and athletes with whom you want to work, so that you can ensure that they are eating the right foods in the right quantities and at the right time to meet these demands.
Important note: Optimum nutrition can help turn a good athlete into a great athlete. However, optimum nutrition will not turn a poor athlete into a good athlete.
Sports Nutrition Pay and Salary
According to multiple data sources, including the NHS Pay website, Pay Scale and Prospects to name a few, Registered Dieticians and Registered Nutritionists working in an 'employed capacity will earn between £24,000-34,000 per annum. In the NHS, they are typically employed on Band 5. Those working privately, or on a self-employed basis, naturally have the potential to earn much more than this, although it is not quite so easy to secure earnings data on these groups because it is not in the public domain.
Performance Nutritionists working at elite level at the English Institute of Sport (EIS), or the Scottish Institute of Sport (SIS), will earn between £26,000-41,000 per annum, depending on their experience, location and sport. In a professional football club, this salary could be as much as £50,000, although most of the jobs that we sampled at this level started around £44,000 per annum.
Outside of professional sports, most sports nutrition coaches work on a freelance and hourly basis, providing nutrition advice, support and education to a variety of clubs, athletes and clients, in much the same way as a personal trainer might operate. Hourly rates appear to vary considerably, depending on the location, sport, level and skills of the coach. On average, sports nutrition coaches will charge £35.00-50.00 per hour for their services, although those operating in more elite, niche or exclusive circles will naturally charge more.
Professional Practice in Sports Nutrition
As a sports nutrition coach, you should always adopt a "first do no harm" approach to your work, much the same way as a health care professional would work. Put simply, you should place the athlete's physical, mental and emotional needs above all else, particularly any performance-based goals or outcomes, regardless of how important these may be to the athlete. Advocating the use of foods, supplements or other substances (e.g. image and performance-enhancing drugs, or IPEDs) that 'might' improve athletic performance in the short-term, but compromise the athlete's health and wellbeing in the future, must never be an approach that you'd even consider.
As a professional sports nutrition coach, you'll need to keep your knowledge up to date, follow the science and evidence, ensuring that you know the difference between fact and fiction. In the complex world of nutrition, food and supplement manufacturers spend billions of pounds every year marketing their products and securing endorsements from high-profile people (sports men and women, celebrities etc) to get people to buy what they sell. Many of these organisations even commission their own research to guarantee that their products are reported to have scientifically proven benefits, even though in reality, this research is highly questionable and far from objective. As a sports nutrition professional, you'll need to be able to see through these practices and know where to go to get objective and impartial information.
Finally, to be a true nutrition professional, you'll need to have a genuine passion for helping people and a real desire to see them succeed. You'll need to be committed to high standards of professional conduct and you should always ensure that you operate within the guidelines or codes of conduct of any professional organisations or bodies that you affiliate with (e.g., Association for Nutrition, Chartered Institute for the Management of Sport and Physical Activity).
Summary
If you are serious about becoming a sports nutrition coach, you might want to consider completing our Level 4 Nutrition for Sport and Exercise Performance programme. This course is specifically designed to provide exercise professionals with the knowledge, skills and confidence to provide nutrition support, advice and education to amateur, semi-professional and even full-time athletes.
Back to articles