Salary and Pay of Personal Trainers in the UK?
If you're considering becoming a personal trainer then it's only natural that you will be wondering how much you can earn and what you can do to maximise your future earning potential?
In this personal training pay and salary guide, we'll lay out all the facts and figures for you so that you can see realistically what you can earn according to your level of qualification, experience and geographical location, which are the main factors that will affect your salary and pay of personal trainer.
A Bright Future in Personal Training
There really isn't a better time to begin a career in the fitness profession. According to data published by the Leisure Database Company, the fitness industry is a rapidly growing sector that has a market value that exceeds £5 billion. Following the COVID-19 pandemic, there has been a major shortage of skilled and qualified personal trainers, which has led to a significant increase in pay, benefits and conditions for personal trainers.
In recent years, there has been somewhat of an explosion in participation in exercise and physical activity, with more people than ever now understanding the importance of regular exercise and fitness training.
Across the UK, there are more than 10 million health and fitness club members using more than 7,000 gyms and health clubs. In real-terms however, participation in regular exercise is likely to be much greater, given the number of people performing home-based, online and outdoor (e.g. running, cycling) training activities.
According to data published by CIMSPA in their Workforce Insight Report, personal trainers top the bill in terms of the job roles that are most in demand in the active leisure sector. So, if you're looking for a career with unlimited opportunities, becoming a personal trainer might be just what you're looking for.
It's Not All About Money
Before we explore the potential earnings, pay and salary of personal trainers, it's important for us to underline the fact that not everyone has pay and remuneration at the top of their list when deciding whether to pursue a particular vocation or career.
Many people are attracted to personal training because it provides them with the perfect opportunity to help others, to contribute and to make a difference to the physical, mental and even emotional health of their clients. Exercise is widely used in prescription form to help people overcome and manage all kinds of chronic medical conditions and diseases. If your motivation to become a PT is more than simply money, you really would be hard pressed to find a career that allows you to combine your passion for exercise and fitness with helping people that seriously need your help.
What Can You Earn As a Personal Trainer?
According to data published by organisations like PayScale and Glassdoor, the average personal trainer charges around £30.00 per hour for their training sessions.
In contrast, we at HFE surveyed thousands of our personal training graduates who are actively working as personal trainers across the UK and concluded that the average hourly rate was in fact £36.00 per hour. From those who participated in the survey, (n = 2,652), we also discovered that the average number of sessions delivered by personal trainers each week was 18, although of all the data reported, this was the most variable and the range was considerable (4-36 sessions per week).
It is important to underline the fact that personal trainers typically charge more for their service in the south of the country than they do in the north, so the national average rate of hourly pay will be somewhat inflated for those working in the south.
Given the sheer variability of personal trainer's rates of pay reported, we have supplied a table below that provides a basic summary of what realistically could be earned according to the hourly rate charged and the number of sessions delivered each week.
[wptb id="27966" not found ]
It's also important to recognise that those personal trainers that charge more for their services tend to be those with more advanced and specialist skillsets, and/or who provide additional services (e.g. massage) or work in different working environments (e.g. online, home-based, gym-based).
All PT's must be qualified to level 3 in order to meet the minim standards set by the industry regulators and employers. However, those that have qualifications that enable them to work with special populations (e.g. pregnant women, obese clients, those with back pain) are usually able to justify charging a higher price point for their service. We found that most of our graduates qualified to level 4 and beyond were charging more than £40.00 per session for their services.
Employed vs. Self-Employed Pay
In the world of personal training, there are generally two main types of employment to consider: employed and self-employed.
Employed trainers will usually be classified as employees and as such will have an employment contract, a basic salary, holidays, sick pay and a job description which clearly defines their daily duties and responsibilities. Tax, National Insurance and pension contributions will all be administered by the employer.
In contrast, self-employed personal trainers are not employees and as such must manage all of their own legal, financial and business affairs. Self-employed trainers will typically only be paid for the hours that they are training clients, and depending on where they are working, they may also need to deduct from their earnings a weekly/monthly rent to use the facilities to train clients. Rental schemes are quite common in budget health club and gym chains and they can be quite expensive, so it always pays to check beforehand.
It's also important to know that many of the lower-priced personal training course providers also offer guaranteed interviews alongside their training courses. These interviews are ALWAYS for self-employed positions where you'll need to pay rent to work there. So please do be careful and ask lots of questions upfront.
According to our survey data, around 65% of personal trainers working in the fitness industry are self-employed. For more information, why not read our guide on employed and self-employed opportunities in personal training?
Employed Personal Training Pay and Salary
Gaining secure employment as a personal trainer can often be a great first-step into the industry because this model allows you to sharpen your PT skills, build your confidence and gain some all-important experience. You can also use this time to gradually build-up your client base so you aren't under too much financial pressure from the get-go.
Starting out as a newly qualified personal trainer can be intimidating and, in our experience, getting a full or part-time job where you can learn from others in a real working environment is often invaluable. Even if it's only a temporary measure.
Employed personal trainers do tend to earn less than those in self-employment, but this is the price that must be paid for job security, certainty and financial stability.
Over the course of a 12-month period, we reviewed data collected from a range of sources, including surveys with our graduates, recruitment websites, job adverts from leisure operators and active leisure industry reports, like those previously mentioned. We concluded that employed personal trainers earn an average of £25,390 per annum.
Again, the salaries available to personal trainers in secure employment vary considerably depending on location, qualifications, experience, and the employer in question.
Basic Salary vs. On Target Earnings
They say in life that 'you don't get something for nothing' and when it comes to personal training pay, not a truer word is spoken!
Many of the salaries advertised by leisure operators for personal trainers are in fact calculated on the basis that the personal trainer achieves all of their workplace targets and key performance metrics. As such, these salaries are in fact on-target earnings, or OTE, rather than a guaranteed basic salary, although they usually include some form of basic salary and are topped up with a commission or bonus. This can be seen in the advert below.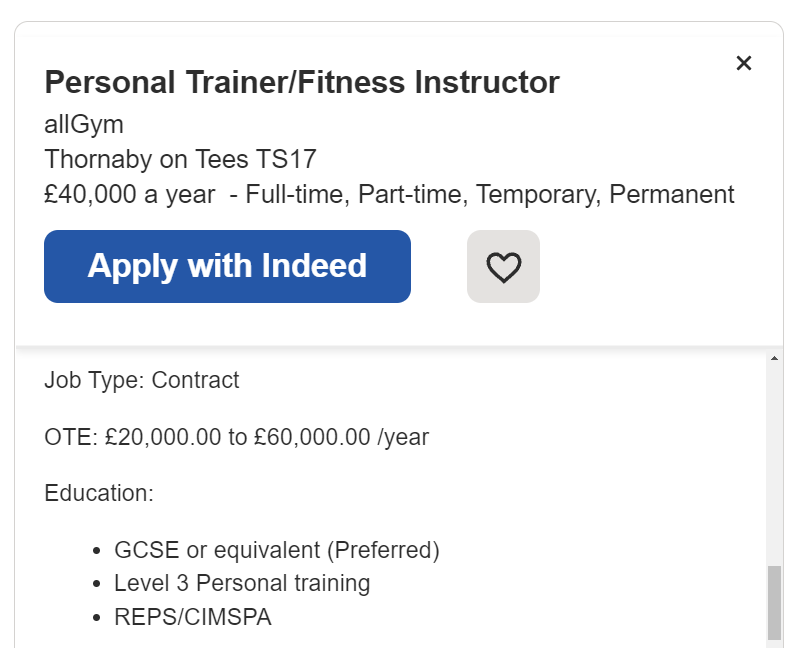 In order to achieve their targets, most trainers will need to deliver a specific number of sessions per week and consistently over a number of weeks or months, although other performance metrics are also likely to be at play, like customer satisfaction for example.
To better illustrate how such a bonus scheme would work, we've provided an example of a typical tiered system used by a well-known fitness industry employer below. It's important to underline however that each club/employer will have their own PT schemes and this is just provided as a realistic example.
| | | |
| --- | --- | --- |
| | Minimum Number of Weekly Sessions | Typical Hourly Rate of Pay |
| | | |
| | | |
| | | |
| | | |
Self-Employed Personal Trainer Pay
Working as a self-employed personal trainer can be an exciting and fulfilling career in which you get 'to a certain extent' to be master your own destiny. It's certainly the most flexible way to work as a PT and you get to choose your own hours, your place of work and which clients you'd like to work with.
Unlike employed trainers, your earning potential is somewhat uncapped and you can work as many hours as you'd like and charge what you want for your training services, as long of course you can justify the return on investment to your clients!
You'll note in this section that we're not using the word 'salary' and this is deliberate, because typically, self-employed individuals working as sole traders don't typically pay themselves a fixed salary. Their earnings are more variable depending on how many hours they work and what their expenses are.
In the self-employed model, you'll probably work completely independently, which is usually outside of a gym environment, or from a health club where you'll need to pay rent to use the facilities and train the clubs members.
If you plan to work independently, then you'll likely work from a variety of locations, including your home, online, client's homes and outdoors, to deliver your training services. If you're planning on working from a gym, then you'll normally need to pay a fixed monthly rent to the gym or management company in order to be able to use the facilities and access the membership base.
Providing accurate data about the earnings and pay of self-employed personal trainers is somewhat challenging because this information is not freely available or in the public domain. As such, the only information that we can supply is that which has been disclosed to us by participants of our pay and salary survey for personal trainers. This information is summarised in the table below.
| | | | |
| --- | --- | --- | --- |
| | Average Sessions Per Week | | |
| | | | |
Self-Employed Success as a Personal Trainer
There are many shining examples that demonstrate the lucrative returns available to personal trainers that are willing to work hard on themselves and their businesses.
Some of the UK's Best Personal Trainers have seen tremendous success from their personal training careers, which for many, opens other doors and opportunities. You only have to look at what a household name people like Joe Wicks and Matt Roberts have become in the fitness world to see what's possible.
Location and Pay in Personal Training
As we alluded to earlier in this pay guide, many of the higher paying personal trainer opportunities can be found in the south of the country, especially in and around the capital, London.
In London, it isn't uncommon to see trainers charging in excess of £100 per session, especially with trainers targeting their services towards high-profile clientele and/or those working from exclusive premises.
It goes without saying however that the cost of living in London is considerably higher than that elsewhere in the country, so any potential uplift in hourly rate may soon be cancelled out by the cost of living.
The infographic below summarises some of the data collected from our pay and salary survey for personal trainers. This information includes data supplied by employed and self-employed trainers, so does not exclusively relate to any one particular employment model.
Checking what personal trainers charge in your local area will give you a good idea of the general market price, which will help to influence your own price point and allow you to stay competitive.
Marketing Success and Pay as a Personal Trainer
A large proportion of your financial success as a personal trainer comes down to your ability to effectively market yourself and your brand, especially if you are planning on becoming self-employed.
How well you market yourself will go a long way in attracting new leads who can then be turned into paying clients. You can greatly increase your brand awareness through the likes of networking, client referrals, social media and digital marketing, and you'll need to dedicate time at the start of your career to develop some of these skills.
While some personal training courses can go a long way in teaching you the business and marketing skills for personal training, there is nothing better than getting some practical experience and evaluating the impact and results you see. Whether it's building a website, building a social media presence, or creating some online content to demonstrate your knowledge and skills, give it a go and study the effect that it has (or not).
Social media can be an incredibly powerful tool to advertise yourself and your services. Instagram is arguably the most popular social platform in the world of fitness, housing a huge community of fitness professionals, influencers and people who generally just love to consume healthy-living related content. Instagram can therefore be a great platform to advertise your services through content, giving you the opportunity to truly expand your reach and generate more leads.
Fitness influencers with a medium-large following can charge a hefty amount for a single sponsored post. With this, comes the opportunity to sign lucrative brand deals and sponsorships. What bigger incentive do you need to create great, inspiring content?
Pay and Salary Summary
Hopefully by now you have a better understanding of what you could realistically earn as a personal trainer and the range of factors that will positively and negatively affect your earning potential. In this guide, we've tried to stay away from hype, hyperbole or misrepresentation, and we've provided in places the appropriate red flags that you should try to avoid. If you're seeing employers or training providers telling you that you can be earning 40-60k per annum once qualified, this should be a major red flag for you and says a lot about their integrity. Sure, these sums can be earned but they usually take a lot of hard work and more than a few weeks experience!
Wherever you are located, and whatever employment model you want to pursue, it's important to recognise that becoming successful at anything is a continual and never-ending process of discovery and improvement. There is no end destination and so you'll need to continue investing in yourself, your knowledge and your skills if you want to keep growing, personally and professionally.
Every journey really does start with a that all-important first step and so if you want to get your career as a personal trainer off to a flying start, why not get in touch with our Careers Advisors on 0800 612 4067 today to see how we can help you?
Back to articles