Poppy Haslam is HFE's latest apprenticeship success story, following in the footsteps of Lauren Thompson at Wrightington Hotel and Country Club. Poppy has spent the past 12 months at Bolton Wanderers Community Trust, a registered charity committed to providing sports opportunities in the local community. We recently caught up with Poppy to learn more about her experiences as an apprenticeship and her plans for the future.
Tell us a bit about yourself and how you became an apprentice?
My name is Poppy Haslam and I'm 19 years old. I first took an interest in sport when I was five years old and ever since then I have had a passion for it, especially football. After leaving school and not having a clue what I wanted to do in the future, I ended up going to Bolton Sixth Form College for two years doing a BTEC Level 3 Extended Diploma in Sports Coaching and Development.
After finishing college, again I was left with having to make a decision on what I wanted to do next. University was never on the cards as I had had enough of studying and writing essays so I looked at other possibilities for the future. After looking all over for apprenticeships I found one at Bolton Wanderers working in the Community Trust. I applied and thankfully I was successful with the interview.
I started my apprenticeship in June 2015 and completed it a year later. This apprenticeship has created lots of new opportunities for me and now I have completed my yearlong apprenticeship BWCT have kept me on and I am now a full time member of staff.
Over the course of your apprenticeship, what have been some of your most memorable moments?
During the full course of my apprenticeship I have had lots of opportunities and experiences. I had the opportunity to develop my coaching skills by getting the opportunity to complete my FA Level 1 and 2 Football qualifications and my Youth Award Module 1.
As well as being able to upskill myself, I have also had the chance to experience and visit places I have never been to before. Some of the most memorable moments as an apprentice were being able to go and visit Wimbledon and also visit Queen Elizabeth Park for the Hockey Champions Trophy.
During my time as an apprentice it was also the Community Trust's 30th anniversary so we completed some fundraising events including the Manchester 5K Gung-Ho and the Manchester 10K. As well as this there was the Legends Game where lots of past players came back to the stadium and played against each other. I was actually lucky enough to meet some of the players which was an unforgettable experience as I am I huge Bolton Wanderers fan and had watched some of the players when I was growing up.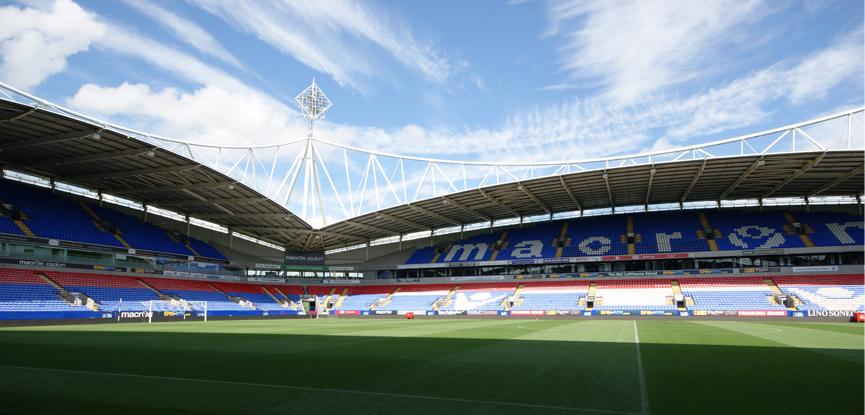 Now you've gained your coaching qualification, what are your plans for the future?
Now that I have gained my coaching qualification and started working full time my role includes running the Premier League Girls project. PL Girls is a project which is funded by the Premier League in which its aim is to get more girls involved in football. My plans for the future are to continue working for Bolton Wanderers Community Trust and to keep on working hard to continue my coaching journey.
As I now already have my Level 2 Football Coaching Award and my Youth Award Module 1, I hope to complete my Youth Mods, possibly do a goalkeeper specific coaching course, and to eventually complete my UEFA B Licence.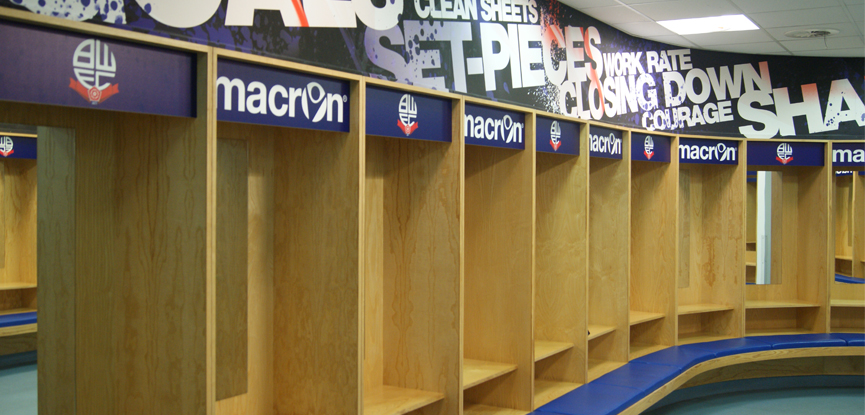 It's always a popular topic of debate, but what do you think can be done to encourage more girls and women to get into sport and fitness?
There is a lot of work that could be done to get more girls and women into sport and fitness despite, there already being lots of different opportunities. For younger aged girls I think that it's up to the parents to motivate their daughters to try out new sports, even if they may not be interested themselves and they should try to get them involved in as many sporting opportunities as possible.
Also, I think it's important as a parent to understand your children will copy you so if you try out a sport, then they will try it too. For older participants there should be more advertisement of local sessions that are running so that they are aware of what sport they can be involved in. I also think there should be more taster sessions available for females to try out different sports and there needs to be more focus on female specific sessions and female coaches/ instructors.
For the older generation I think that it's important to have a social part of the session after the physical activity which might include tea and coffee for the participants so that they can relax and have a chat with each other.
Finally, what advice would you give to anyone thinking about doing an apprenticeship?
I would encourage anyone who is undecided on what they want to do after leaving school / college to try out an apprenticeship. By having an apprenticeship you are able to get paid to learn and gain experience, whereas going to college you don't get paid and you don't get to experience the job hands on. Not only this but if you put the effort in as an apprentice you are more than likely to be kept on by your employer which can then set you up for the future.
If you are undecided on what career you want or if you have one in mind but you're not 100% sure if it's the right job for you than an apprenticeship is also good to do so that you are only doing the job for the timescale of the apprenticeship, then if you aren't enjoying it or you have other thoughts about that career once it has been completed you can look at other pathways.
Speaking about Poppy, Katie Bent, Head of Community Sport at Bolton Wanderers Community Trust, said:
"Poppy has been a fantastic addition to the Community Trust over the past 12 months. She has become a part of our team and supports a variety of projects such as PL Girls, PL4Sport and PL Kicks. She has now become a full-time member of the team and will oversee our Premier League Girls project going forward. It is fantastic to see the work she has done over the past couple of months and see how see has developed through the apprenticeship."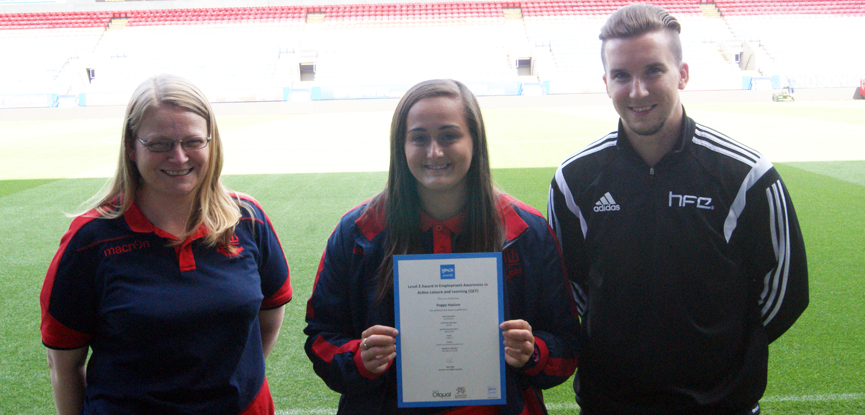 NVQ Apprenticeship Tutor Gregg Travers was also quick to heap on the praise:
"Over the past 12 months Poppy has been a fantastic apprentice to work with. She always turned up to our visits on time; went above and beyond what I had asked her to complete and the work which she submitted was of a brilliant standard. Poppy has grown in confidence over the past 12 months which has been a pleasure to see; she has taken control of different projects; managing and coaching the girls football team at Bolton College being just one of them. Poppy has a bright future ahead of her and I have no doubt in saying that she will make a fantastic coach for BWCT. Well done Poppy."
Save