How did you discover yoga and its performance benefits?
I think over the course of my career yoga has cropped up time and time again with other professional athletes and sportspeople. I heard that the likes of Ryan Giggs and other professionals were using it as an aide to their training. I thought if it's good enough for them, then it's good enough for me. Particularly as I've gotten a little bit older, I've definitely found that it's aided my performance and training, for sure.
How has learning and understanding more about yoga helped your training and performance?
As my understanding of yoga has increased that knowledge has transferred onto the squash court in terms of strength, balance and position. It's also helped me understand that the pace I need on court doesn't just come from doing speed work, it can come from the strength and balance work I'm doing alongside it. Learning a lot about yoga postures/poses, what muscle groups you need for that, has transferred onto the court and helped me get into that deep lunge position that we use so much in squash.
Do you feel like yoga has given you any kind of competitive edge on the court?
I think the biggest thing it's helped with is the injury prevention. The constant lunging that we do in squash and the dynamic movements all add up. Being strong in those positions off the court has enabled me to be strong in those positions on the court. It's also prevented me from stressing my body too much while I'm actually training and playing. I've definitely seen a performance benefit in terms of my injuries and I like to think that it's helped my performance with regards to the lunge and how deep I can get into those positions.
Why have you chosen HFE to aid you in expanding your knowledge of yoga?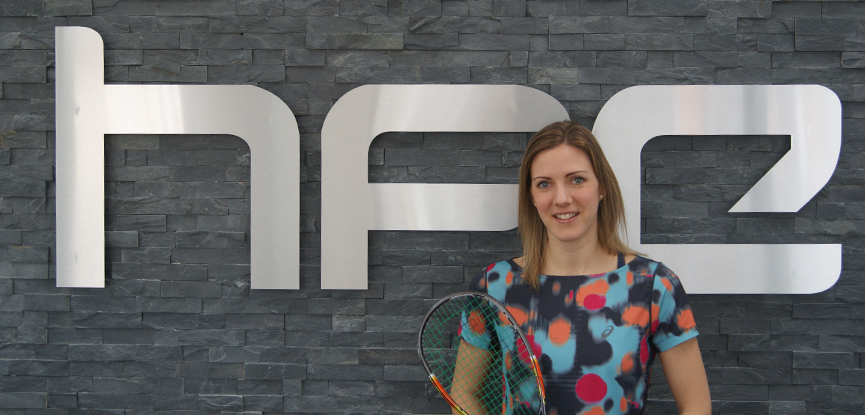 As I've said before, I really bought into the performance benefits of yoga so I just wanted to have a bit more knowledge about the subject. Knowledge is power and understanding what's happening on the squash court is huge for me and replicating that off the court can be equally as important. It's also a massive bonus to have the manuals and online materials that I can use when I'm travelling all over the world.
Have you thought about going into coaching after your professional career has finished?
I haven't thought too much specifically about what I'm going to do, but I would like to go into the coaching side of things. I feel if I was coaching I would try and get the youngsters into yoga, particularly earlier than I did, just from an injury prevention point of view. Also, from a mindset standpoint, it's important to be able to have time on your own. I think that the life a lot of people live today is very busy and it can keep your mind quite busy. Whether I go into coaching or whether I go into something else, I'm sure squash is always going to be a part of my life and I'd like to be able to pass on that knowledge and yoga would certainly be a part of that.
Do you buy into the spiritual aspects of yoga at all or is it purely a physical thing for you?
I do buy into the spiritual side of yoga. I'm not a hugely spiritual person, but I really like the way that yoga sessions start and finish. When I have my own personal yoga sessions the way we start is very calming for the mind, it gets you in touch with your body. If you're not 100% on board with that then you're not going to get the most out of the physical side of the session. I always feel like I start a yoga session well and then go through the physical side of it, finishing with a nice spiritual, mental part at the end that sets you up for the rest of the day. Part of the spiritual/meditation side has helped to quiet my mind and helped me focus a bit more – that's definitely helped me on court as well.
Aside from being world number 1, what have been some of your other career highlights?
My first Major World Series event win was the US Open in 2011 and I feel like that really kickstarted my career in terms of the major events. I went on to win the British Open which is sort of the Wimbledon of squash, it's been going for 100 years and that was a really big thing for me – being the first British winner for 22 years. From there I went on to win the World Championships the year after – I was the first British woman to win that for 15 years and then the first ever English woman to hold both the British Open and the World Championships at the same time.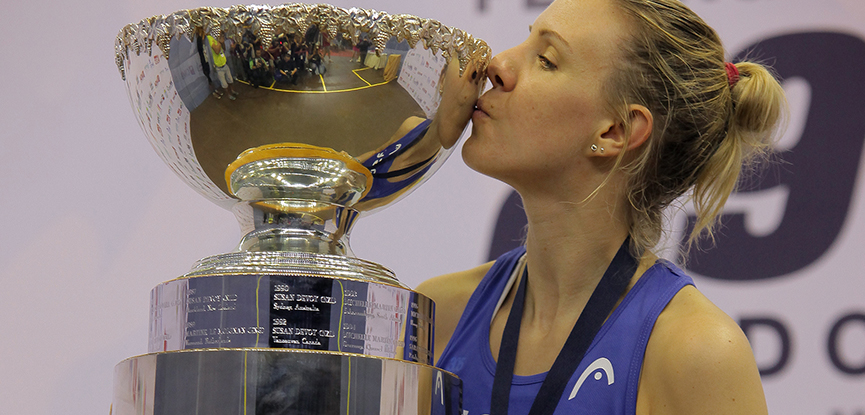 Playing in Glasgow at the Commonwealth Games was amazing, winning two silver medals there, one in the doubles and then one in the singles. Then the backend of 2015 was the most successful start to any season I've had. I won the Macau Open, the US Open for the second time and the Qatar Classic, and that finally took me to world number 1 which is probably the biggest career highlight, largely because it was the one box left to tick. I'd confidently say one of my standout moments is holding the British and World Championship at the same time, being the first British woman to do that makes me feel really proud.
What can be done to further raise the profile of squash?
The situation with squash not being in the Olympics completely baffles me so I can't really give an answer as to why it's not included to be honest. It sort of seems down to a higher power and their decisions at the end of the day. I think most people would agree that from a physical point of view squash deserves to be in the Olympics, so it's unfortunate it hasn't happened yet. I hope it's eventually included, for the youngsters coming through if not for anyone else.
Just in terms of raising the profile of squash overall, I do think on a world level the sport is growing and that's going to help a lot. There are more and more sponsors wanting to get involved which means more prize money, more competition and more media coverage. Hopefully, I can try to be a role model in the best way I can be, by winning and behaving well.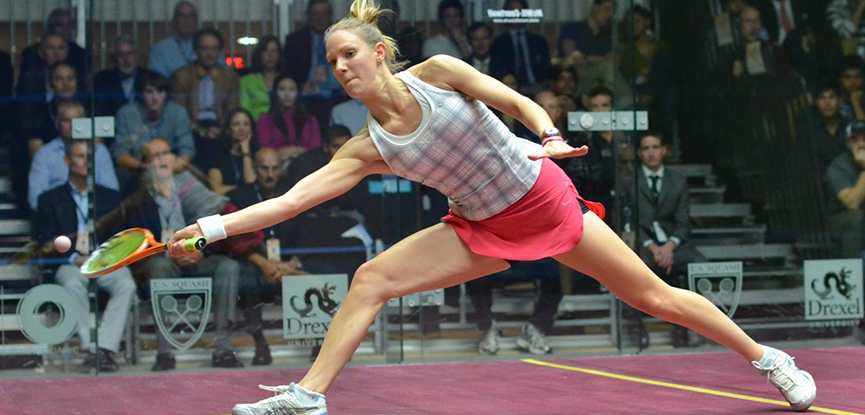 I definitely think we're going in the right direction. Last year we merged with the men on the world tour and it's been amazing for both sides. We sell the sport as one package – men and women together, instead fighting it out with each other. That's been unbelievable in terms of the TV deals that have come through from that worldwide and obviously in England having a package with Eurosport and BT Sport is great. Compared to where we were 10 years ago, when I started out on tour, we're in a completely different place. It's really exciting to see where we can hopefully be in another 10 years.
How do you deal with the pressure and expectation of being British/world number 1?
I think there's always a certain amount of expectation, but it was there even when I was world number 2. I've been British number 1 now for three or four years, there's always pressure, but the majority comes from yourself and your level of expectation. It's something I've learnt to deal with over the years and I think the key has been to make sure I'm focusing on my performance and not trying to get too bogged down with results, winning and losing, and what other people are thinking. I know that I train really hard every day and put in the maximum amount of effort in order to be the best player I can be. So if I am ever going to lose, it's not for lack of trying or lack of effort. As long as I know that I can finish a day's training, a tournament and my career knowing that I've given everything I can then ultimately I'm proud of what I've achieved and hopefully that's enough to win me titles.
What advice would you give to aspiring fitness and sports professionals that could help them succeed in their careers?
I would definitely say that you need to write some goals down to start with. Ask what it is that you're actually trying to achieve and then go after those goals. That's been huge for me particularly the last 3 or 4 years of my career, I've been writing down what I want to achieve. When you're at a certain ranking or level of any sport it's easy to have a general goal of 'I just want to be better', but how do you want to be better, what ranking do you want to be? Do you want to have a PB? What part of your game do you want to improve? You have to set a goal that is measurable.
I think that's been huge for me and personally you just need to make sure you train hard consistently on a day to day basis. I see a lot of younger professionals, particularly on the squash side, who get the buzz for it and train for maybe a week, two weeks, three weeks even, and then it fizzles out. It's not good enough to train hard for a period and then get bored and say 'didn't I do well there?' – it's got to be a consistent effort day after day, year after year. That's what's going to get you to the very top and you need to get your head round that as soon as possible in my opinion.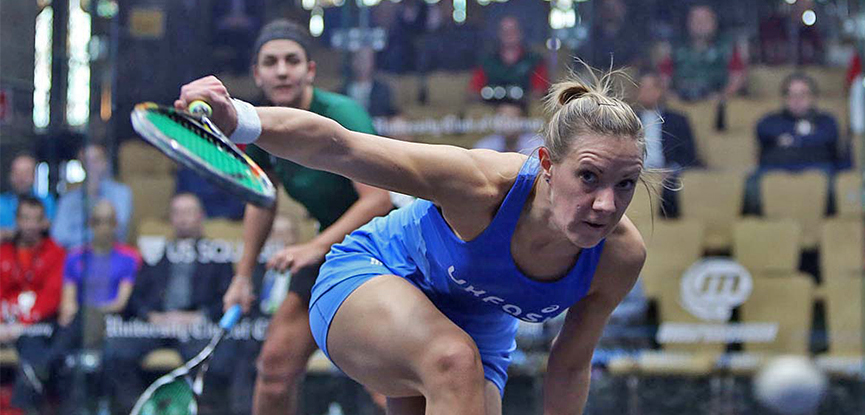 The attention to detail is also very important. Make sure you have the right team around you in terms of support. For example, if you're a squash player it's not just about what you do on court, it's about whether you do the yoga, whether you're dealing with the mental side of things, your diet, stretching, getting an early night – making sure you're taking care of the little things because they turn into big things.
You mentioned writing down goals, at any point did you ever write down 'Become World Number 1'?
Yes, of course. You have to. Would I have admitted to that if I wasn't world number one? No, probably not! You have to see it and you have to believe it before you're there. From last summer I've been working with Lawrence Jones, founder and CEO of UKFast, who's been mentoring me and literally been telling me I was world number 1. Every time I spoke to him he'd say I was the best player in the world, the rankings just haven't caught up yet. So yes, I absolutely wrote it down as a goal, I wish I'd done it earlier in my career because I don't think I really did write down enough goals. I was definitely working hard consistently, but I didn't feel as though looking back that I gave myself measurable goals to achieve and hit. Now it's a case of writing down goals for each and every season if not the half season. At this stage we're just past halfway into the 2015/2016 season so I wrote down a new set of goals at Christmas and I'll write down some at the start of the next season. It's funny how when you write them down, put pen to paper, your brain reacts in a different way to when you just think them quietly to yourself. When you write them down, they're out there for the universe to see and it's funny how they can manifest.
What does the rest of 2016 hold for you?
So my next tournament is the British Open in Hull, which is the Wimbledon of squash. From there we've got our rescheduled 2015 World Championship which unfortunately was cancelled at the last minute in December, so that's on in Malaysia in April. I get home straight from there and I've got the European Team Championships, representing England, in Poland and then the tour is pretty much finished. We have our World Series Finals, which is the top 8 ranked players from all the major events in the season and I've already qualified for that from the form I've had at the back end of 2015. That's really exciting because that's the first time the World Series Finals has been in Dubai and it'll be really great to get out there and perform without the pressure of points and rankings. So I'm excited for that and then I've got a holiday before the 2016/2017 season kicks in.
Want to share the benefits of yoga with others, including sports performance and injury prevention? Enrol onto a yoga teacher training course to start leading your own yoga classes or teaching yoga one-to-one.