Introduction to Teaching Pilates
Before we explore the earning potential of Pilates teachers, it's first underlining the fact that most people don't decide to become a Pilates teacher for the remuneration or pay. Most Pilates teachers are drawn to the profession because they themselves have had a positive, and very often, life-changing, experience with Pilates as a student or participant and as such, they want to share this with others so that they too can realise the incredible benefits of Pilates. In this regard, most Pilates teachers are motivated by altruism and contribution, rather than how much they can actually earn.
That said, if you've decided that you want to become a Pilates teacher, irrespective of your motivations, is only natural that you'll want to know what realistically you can expect to be paid for delivering sessions, both to individual clients and groups.
The short answer to the "how much can I earn as a Pilates teacher question" is "it depends". It depends on where you are working in terms of the employer (e.g. health club or Pilates studio), what you are teaching (e.g. mat-based Pilates vs. reformer), your clients (groups vs. individuals), location, your level of qualification, and like any other profession, how good you are at teaching?
In this article, we'll explore the pay and salary potential of qualified Pilates teachers and what factors will influence what you can expect earn in the Pilates sector?
Knowing Your Worth!
If you're a Pilates teacher that is committed to delivering the highest standards of professionalism, customer care and client results, then it's only right that you are paid accordingly for your services. However, Pilates is renowned for being a highly technical and precise exercise practice, which is why it's often taught in clinical settings like Physiotherapy, chiropractic and osteopathic settings. When it comes to professional standards, the bar is high in Pilates.
Becoming a great Pilates teacher is a process and not an outcome. In reality, the study and learning never truly stops, especially if you're planning on working with special populations, like pre and postnatal clients, or those suffering from low back pain or other types of musculoskeletal pain. This is largely because of clients with these needs are often more complex, but also because the research and guidance for special populations changes so frequently so Pilates professionals need to stay abreast of these changes.
Naturally, the more knowledge and skills you have, the more you'll be able to charge for your services. Qualifications are of course important, and to some extent they demonstrate your level of knowledge and competence, but they don't tell the full story. You do need to invest in yourself regularly if you want to make your Pilates career a roaring success.
"Working for myself is so rewarding. I'm so proud of Foxy Yoga and Pilates. It's something that I have accomplished by myself and I put so much of myself into it. Seeing my students progress is so rewarding and another bonus is that my job now keeps me fit and healthy all year round!"Aneliese FoxwellFounder - Foxy Yoga and Pilates
What's the Average Salary of Pilates Teachers?
Pilates teachers are usually classified as 'freelance' and as such are self-employed for the purpose of tax, national insurance and their general employment status and benefits. Naturally, there are a few exceptions to this rule but in the main, Pilates teachers don't generally receive a salary like other types of employment.
Dedicated Pilates studios, which tend to be located in inner-city areas, do sometimes employ teachers and as such, these staff will receive a salary. Often however, these positions are still part-time and it is rare to find full-time Pilates jobs.
While salaries do vary considerably between cities and employers, the average salary of Pilates teachers appears to vary considerably between £22,000-30,000 per annum.
Another exception to this rule is those teachers that register their business as a limited company and who pay themselves a fixed salary from their company. In this situation, the business owner usually pays themselves a low basic salary utilising all of their tax-free allowance (e.g. 12,000) and then pay themselves dividends from the profits of their business at a lower tax rate. This arrangement is most common in those who set-up their own Pilates studios and who then go on to employ other staff and freelancers to teach for them also.
What's the Average Hourly Rate of Pilates Teachers?
Generally speaking, if you're employed as a freelancer in a health club or Pilates studio, you can generally expect to be paid anywhere between £20.00-£50.00 per hour.
However, if you are working with clients on a one-to-one basis, either in their home or from a dedicated studio, then your return on the time you invest with your clients is likely to be much greater. It isn't uncommon in London for Pilates teachers to be charging £80-£100 per session with individual clients, especially with the more specialist forms of Pilates, like the reformer for example.
Specialised Pilates studios, along with rehabilitation centres and corporate training do tend to pay better rates because clients pay higher fees for the service. Health and fitness environments, like gyms and leisure centres, do tend to be at the lower end of the payscale.
For those teachers that are highly skilled however, especially when their classes are popular, they can always renegotiate their rate of pay so that this better reflects their skillset and demand for their services.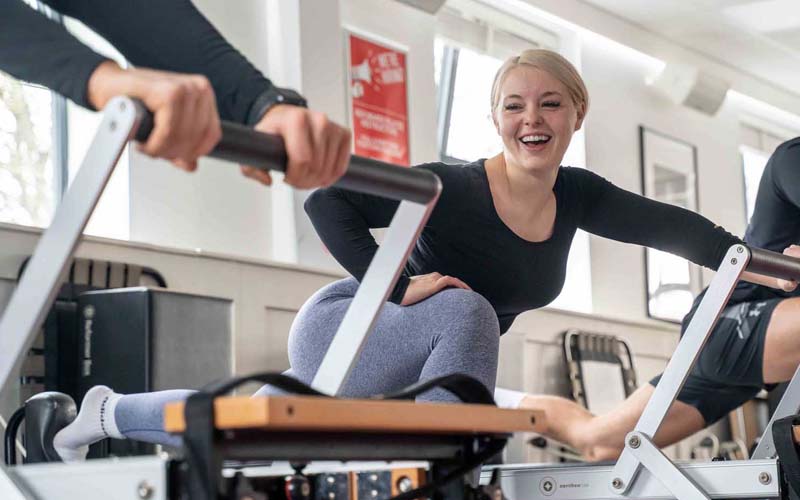 Freelance vs. Business Operator
Like most other industries, those who work for themselves, either hiring facilities and keeping what they make on top, or who own their own or lease premises, tend to do the best in terms of hourly rates. Like other business owners however, they also assume all the risks! It isn't uncommon for Pilates teachers working like this to earn upwards of £100.00 per hour.
To illustrate the point made in the previous paragraph, if a teacher has 15 participants in their class and they each pay £8.50 (a fairly realistic proposition), then the instructor will earn £127.50 for the hour. If they book the room at a rate of £20.00 per hour, then the teacher has grossed £107.50 profit. Again, not all classes are going to be busy so it's important to factor this in to any cash flow forecast.
In an attempt to limit expenditure and maximise profits, many Pilates teachers will team up with Pilates professionals, or in fact other fitness instructors (e.g. yoga teachers, exercise to music), to share the cost of hiring or leasing premises. other teachers to share the costs. This arrangement also works well with cover for holidays and sickness, which are an inevitable pain when running your own business.
Factors Affecting Pay and Salary of Pilates Teachers
There are a number of factors that will affect how much you can earn as a Pilates teacher, with the most obvious one being how ambitious, driven and motivated you are to succeed.
Whether you want to open your own studio, or work freelance across a number of different, health, fitness or Pilates facilities, if you're a skilled teacher that is driven to fill the diary, then there is little to stand in your way. Currently, there is great demand for knowledgeable and skilled teachers!
Other factors that will affect the earning potential of Pilates teachers include:
Workplace:
As we have already outlined, if you are working from a dedicated Pilates studio then you can generally expect to be paid a little more for your classes or sessions than you would if you were working from a health club. In a dedicated Pilates studio, students are also likely to be stronger Pilates enthusiasts and as such, it's also much more likely that you'll meet participants that will want to hire you for one-to-one sessions, especially if you are able to tailor Pilates for low-back pain and other musculoskeletal complaints.
Skill and Expertise:
Like any profession, those professionals that have higher-level qualifications and a wider-range of skills are likely to command higher-rates of pay. Those teachers that are hold the Level 3 Diploma in Teaching Mat Pilates may not earn as much per session as those that have completed the Level 4 Certificate in Teaching Pilates, because the level 4 programme explores the interaction of Pilates with dysfunction and impairments associated with the modern sedentary lifestyle.
With Pilates, there are so many different ways to develop and tailor the Pilates method to meet the needs of a diverse range of clients. This is what makes Pilates so exciting. Pilates is very often used in and alongside clinical settings to overcome all manner of musculoskeletal challenges (e.g. poor posture, impaired movement and pain), which when you review the history of Pilates, you'll appreciate this is how Pilates came to be.
Those teachers delivering more specialist or individually tailored Pilates sessions will earn more than those delivering general class-based fitness sessions. Broadly speaking, expert Pilates teachers working with individual clients can expect to be paid £50.00-£100.00 per session, but again, if they are working for themselves, then the return is likely to be much greater.
Geography and Location:
Those teachers operating in the south of the country, especially London, tend to earn more than those in the north. However, as we've already illustrated, there are so many other factors that influence how much teachers can earn that it isn't always as straight cut as this. There are no shortage of Pilates teachers in the north of the country making a great success of their Pilates business.
We haven't provided any specific examples of pay here because the collective effect of all the other factors makes much more of a difference to income than where the Pilates teacher is located.
Realistic Earnings of Pilates Teachers
The table below provides a summary of the realistic income and pay that Pilates teachers can expect once they are qualified. Naturally, there will also be some planning and administration required outside of these hours.
| | | | | |
| --- | --- | --- | --- | --- |
| | | | | |
| | | | | |
| | | | | |
| | Freelance - some experience | | | |
| | Freelance - some experience | | | |
| | Freelance - experienced/specialised | | | |
| | Freelance - experienced/specialised | | | |
| | Specialised and/or highly experienced teachers | | | |
| | Self-employed, specialised and/or highly experienced teachers | | | |
If you have any questions about your future career as a Pilates teacher, feel free to reach out to our dedicated Careers Team who will be more than happy to assist you.
Back to articles