Whether you are new to Pilates or an experienced practitioner, it is essential to have a good supply of supporting books and reference material to guide your work and practice. We never stop learning and books provide a wealth of wisdom that can expedite your learning and develop your career pathway and future opportunities.
If you trained with a specific school of Pilates then you will no doubt have received a training manual to accompany your study. You may also have been given a specific list of Pilates books and other reference material to study. However, just because you have achieved your Pilates instructor course, that doesn't mean to say that you should stop learning.
In this short article, we'll present a range of the best Pilates books that have been carefully curated by our highly experienced teachers and course tutors.
Your Health by Joseph Hubertus Pilates
Originally published in 1934 and revised and updated between 1998-2008 by Presentation Dynamics, this is perhaps one of the least known works of Joseph Pilates' books (or as he describes a 'booklet'). In many ways, this book actually sets the scene for understanding the nature of his lifetime work, the 'Contrology' method. It also starts to present his core philosophy.
The book conveys some of his passion for health and the importance of balancing mind and body. It also conveys his frustrations about the health and science systems of that time. The last chapter is particularly interesting because it introduces new style chairs and beds, which Pilates designed to ensure more restful sleeping positions and improved posture when sitting (rather than promoting slouching), which was well ahead of the time. One cannot help but wonder if these chairs and beds were the inspiration for the development of the various types of exercise equipment he later designed.
Return to Life through Contrology by Joseph Hubertus Pilates
Originally published 1945 and again revised and updated 1998 by Presentation Dynamics, this short book outlines the foundational principles of the 'Contrology' method and illustrates and explains the original 34 Pilates exercises; with black and white photographs of Joe demonstrating each of them.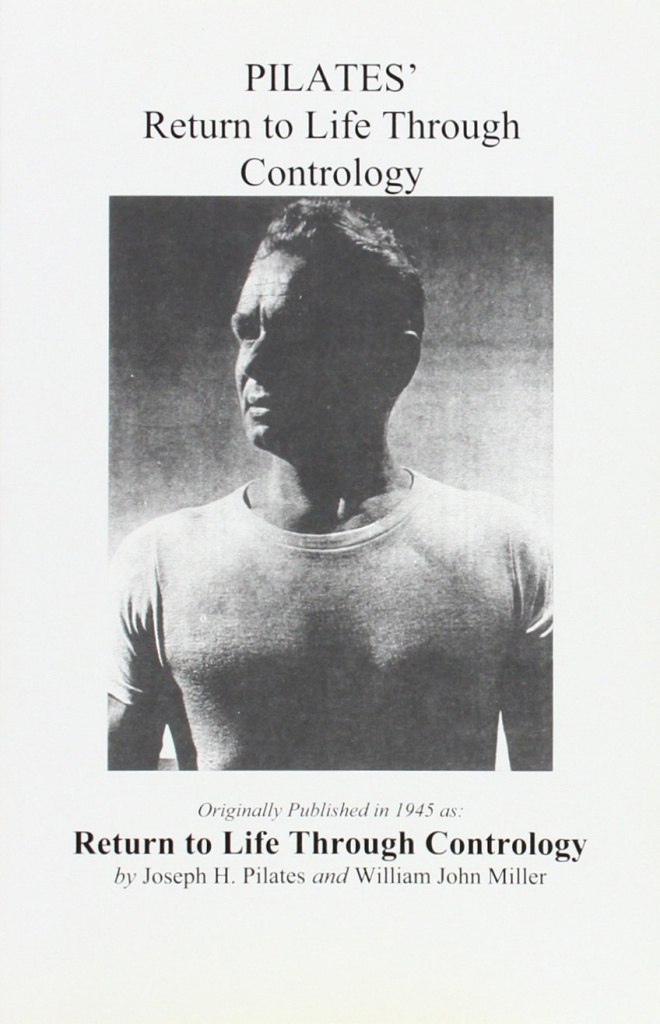 No Pilates teacher's bookshelf would be complete without a copy of Joseph Pilates' original Contrology book because this is the work that inspired the whole method and approach. It is the bible of the Pilates method as we know it.
Pilates by Rael Isacowitz
Published in 2006 by Human Kinetics, the cover of this book presents the copy as 'a complete guide to mat work and apparatus exercise', and it really is just that.
As a starter, the foreword is written by Kathy Stanford Grant, a first-generation Pilates teacher and Pilates elder, who, as a mentor to Rael, describes him as someone who 'moves from within' and somebody who 'upholds the core values of the original Pilates lineage'.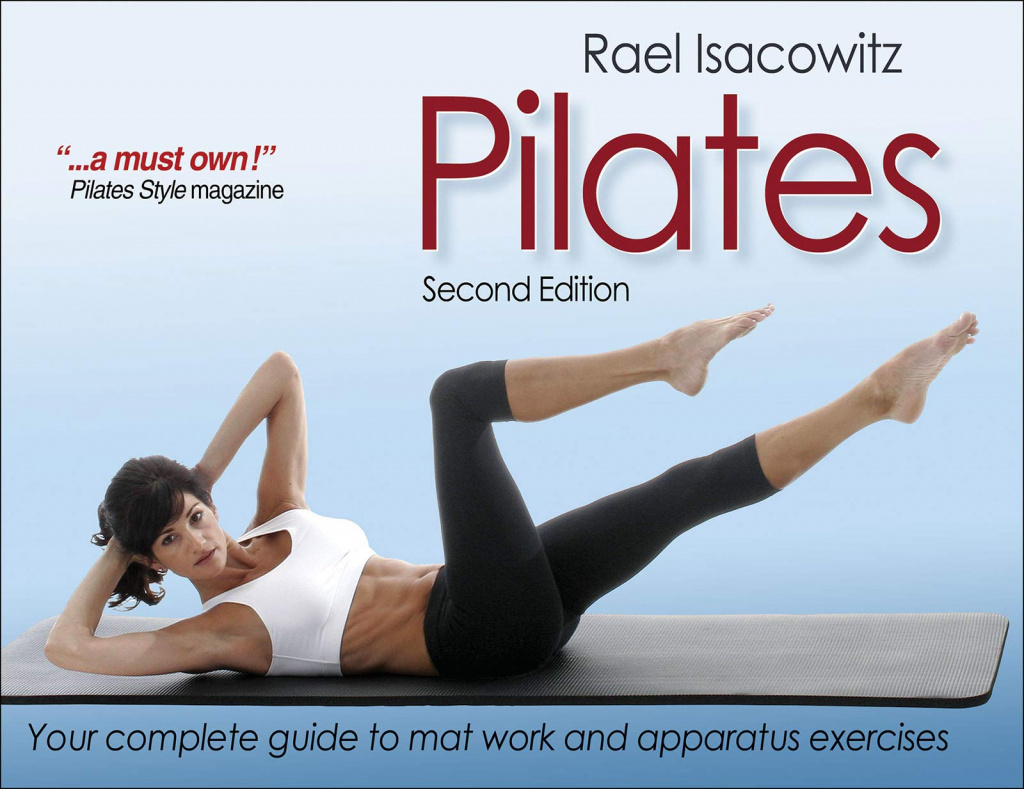 The first chapter starts with an introduction to the main Pilates principles, highlighting the method as a practice from within, Rael also adds a couple of additional principles. It then goes on to provide a succinct coverage of alignment and posture, followed by several chapters covering mat work exercises, reformer exercises and exercise using the Cadillac, Wunda chair, barrels and ped-a-pull, arm chair and magic circle. All the exercises are beautifully photographed and clearly explained.
The book culminates with a chapter addressing the importance of exercise sequencing and some sample routines of both mat work and equipment, with different levels of skill and ability being presented.
This is a fantastic and essential reference source for every Pilates instructor or enthusiast.
Pilates Anatomy by Rael Isacowitz and Karen Clippinger
Published in 2011 by Human Kinetics, this is another favourite of ours that we highly recommend. It would be particularly useful to those training to become a Pilates instructor because of the way in which it fuses the anatomical and applied aspects of the Pilates method.
The book explores a range of key anatomical areas of knowledge required to understand the principles of alignment, breathing and centring. It also presents the information in a fully applied context, specifically relating to the original 34 mat work exercises.
Looking at each of the original exercises in detail (and some more), the book provides a breakdown of the muscles working and a range of technique-specific cues and visualisations. It also beautifully explains the skill and performance ability required for each exercise, indicating when specific exercises may be inappropriate for some participants and their specific needs.
Modern Pilates – Penny Latey
Published in 2002 by Allen Unwin, this Pilates book does as its name suggests, presents a more modern and contemporary style of the method.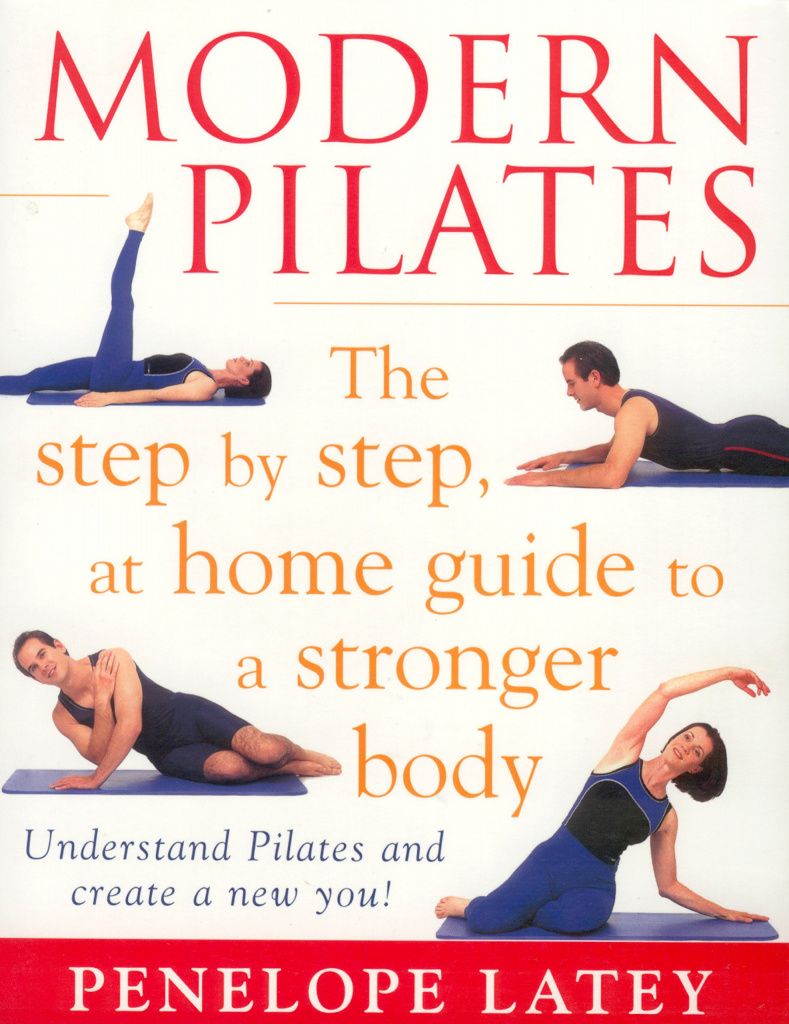 As a dancer, Dr Penelope Latey experienced the Pilates method and trained with first-generation teachers. She also established one of the first Pilates training programmes in Australia.
Latey's goal with Modern Pilates was to make Pilates more accessible to the general public. The original principles and exercises are explored, along with some analysis of exercises which may be less suitable for some participants (e.g. pre and postnatal).
The modern approach focuses on functional movement possibilities and moves away from the constant abdominal engagement and effortful movement of the original method. Instead, it draws on teaching and influences of other holistic and therapeutic approaches, including osteopathy, manual therapies like sports massage and the Feldenkrais method.
It is a valuable read for any Pilates teacher interested in the shifting paradigm.
Pilates Method – An Integrative Approach – Debbie Lawrence
Published in 2008 by Bloomsbury Publishing, this essential Pilates read focuses on more modern exercise adaptations and approaches as they relate to the method, with emphasis on moving with awareness.
The book provides an overview of the history of the Pilates method and looks at the principles and philosophy or the original approach and how it has been taken forward by other schools. There is also extensive coverage throughout of how Pilates relates to anatomy and posture (and exercises) of the shoulder girdle, pelvic girdle and the spine.
Lawrence introduces the SEESAW acronym as a tool to help instructors analyse exercises more effectively and to think about the suitability of the exercises for different groups of clients. It also considers factors which influence the safety of the method, including speed, effectiveness, equipment, environment, stability, alignment and weight.
The book closes by offering guidelines for planning and structuring Pilates sessions, making it a valuable resource for those undertaking Pilates teacher training courses, in a face-to-face or as part of online Pilates training.
What next?
If you are keen to expand your horizons further and step away from the Pilates method, there are a wealth of other notable professionals and publications in the area of movement science. Many of these inspirational movement teachers also advocate the 'moving from within' approach and include, but are by no means limited to:
• Feldenkrais method – Moshe Feldenkrais – 'Embodied Wisdom'.
• Hanna Somatics – Thomas Hanna – 'Somatics: Reawakening the Minds Control of Movement, Flexibility and Strength'
• Alexander technique – Frederick Matthias Alexander – 'The Use of the Self'
• Myofascia – Thomas Myers – 'Anatomy Trains. Myofascial Meridians for Manual and Movement therapists'
Back to articles