Over 130,000 businesses in the UK now employ apprentices and HFE has been on the forefront of the programme. We've been working with a range of partners including gyms, health clubs and other organisations up and down the country, supplying young and keen apprentices, while simultaneously helping them achieve nationally-recognised qualifications.
Our latest active apprenticeship partner is Fit4Less. This chain of affordable gyms has recently opened up a new branch in Preston, Lancashire, and HFE recently paid a visit to see how things were progressing with the apprentices.
---
Our first port of call was Manager Dan Ward who was more than happy to spend a few minutes explaining what it's been like to work with HFE, as well as his own history with the apprenticeship programme.
Q. What has it been like working with apprentices and HFE?
"It's been really good. HFE have been very helpful finding us apprentices and sending people towards us, prevetting the CVs and making sure that person's going to be suitable. When it's come to arranging them (to start their apprenticeship), HFE have been good at passing them forward to us quite quick, and getting them signed up and enrolled onto the courses. The materials they've been giving the learners are very good and I've been actively helping them go through it and making sure they get a good understanding from what the (HFE) guys are teaching them."
Q. How much time has HFE saved in the recruitment process?
"I'd say quite a lot. They took out a lot of the hard work for us. We didn't have to put job adverts out and spend time sifting through however many CVs came through, we just had to pick from the best ones they sent across."
Q. What qualities are you looking for in the apprentices you've hired?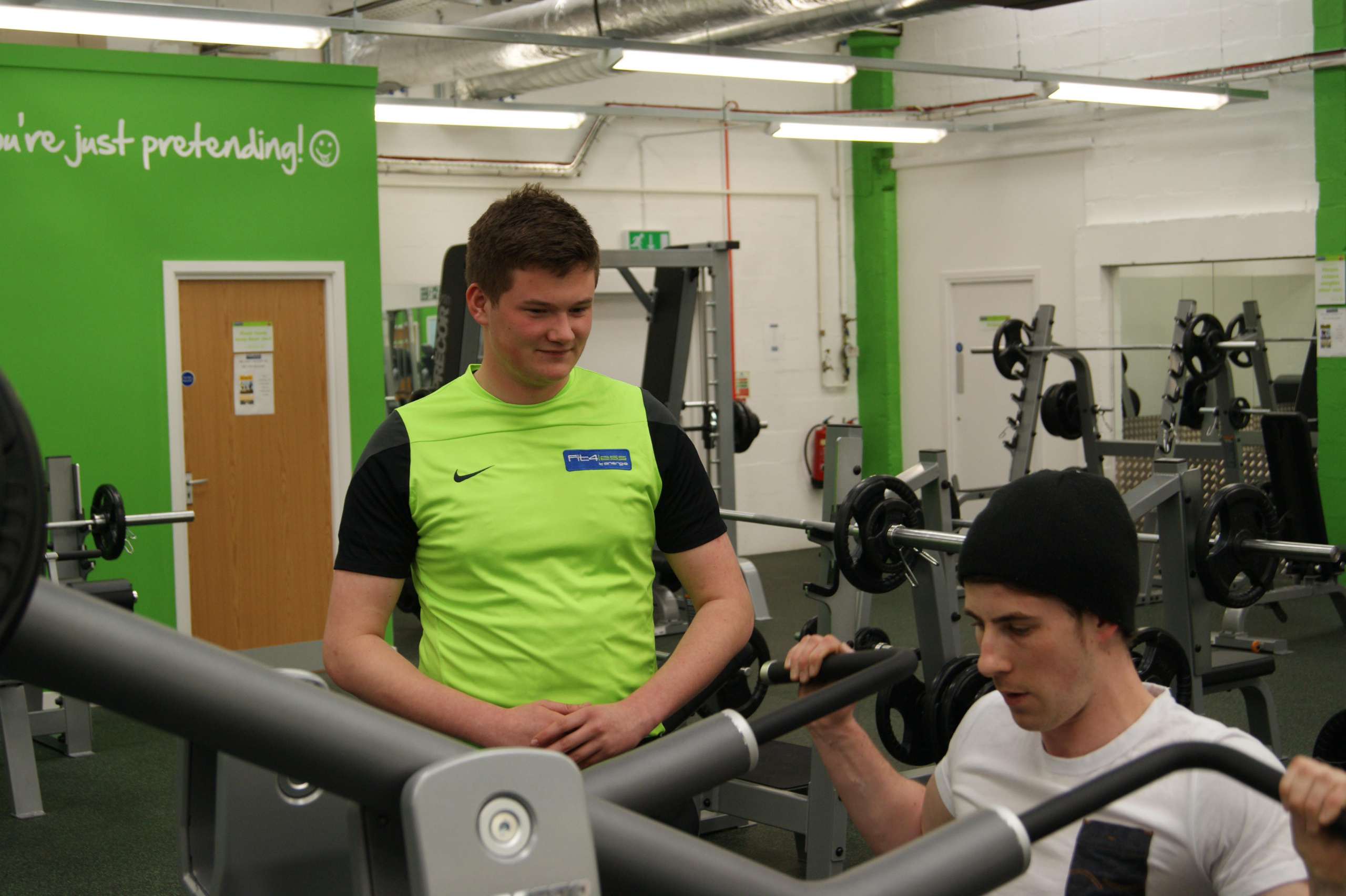 "We're looking for someone who wants to take on an enthusiastic role, someone who is willing to learn the various different sides of the gym, because there's a lot to learn with regards to actually how it runs. So you've got all your basic cleaning duties which have to be done, as well as maybe helping the customers with the sales side of things, tours, and admin. So it's been about finding people to learn all these different little bits and potentially develop them so they can maybe one day run another club when the business grows."
Q. Do you see apprenticeships as a long-term employment solution for Fit4Less?
"Definitely. I think it's a way of getting people who are keen and wanting to develop. It's very hard for young people to get jobs these days without skills or going to university. Some people don't want to go to uni, they're not academically-minded and they'd rather do things by learning on-site. The reason I got apprentices on board is because I've done an apprenticeship myself. I started in outdoor leisure, I did sailing and kayaking and from there I moved into gyms. I loved it and haven't looked back. I want to help other people people have that same experience."
---
Although one of the apprentices, Dan, was busy working one-to-one with a client, we did manage to steal a few minutes with rugby-mad apprentice Will and here's what he had to say about his experiences so far:
Q. Tell us a bit about yourself and how you ended up on the programme?
"I left university after two months because I didn't really enjoy it. I was doing Sport Development at Leeds Met and it just wasn't for me. I came back at the end of November and did a few different bits of work. Worked at my rugby club for a bit behind the bar and then a fella there put me in touch with (HFE's Apprenticeship Manager) Mark who got me started on the apprentice programme. I came down, had a job interview, got asked to come back and I've been working here just over a week. I'm really enjoying it. It's a really good, modern gym with a great feel to it. All the members are very nice and all the staff have been very helpful. It's all helped me feel very welcome. Even though it's only been a week, I feel like I've already learnt a lot from it already and I'm looking forward to the next 12 months."
Q. What kind of things have you been doing since you started on the programme?
"Obviously there's a lot of cleaning involved. Dan (Ward), the manager, has pretty much taken me on the different shifts and shown me the day to day running (of the gym), so I can have as good an understanding of how the gym runs and how it operates. This week I'm going to be doing some spinning classes, going through them with the instructor and them getting some tutoring on how to deliver a class."
Q. What are you most looking forward to over the next 12 months?
"Working with people. Teaching some classes. Different experiences really. Obviously I've never taught a class or worked one-to-one with clients before so I'm looking forward to learning how to do that and pick up as much I can from people around me."
Q. Where do you see yourself after the apprenticeship programme?
"Hopefully getting on to my Level 3 course and becoming a personal trainer. I think that's going to be the long term goal. But for now I'm going to learn as much as I can and make the most of the opportunities here."
---
Finally, HFE's Apprentice Manager Mark Mort, who regularly visits our apprentices in the workplace, had this to say:
"Fit4Less have really embraced the apprenticeship scheme and are helping to develop the apprentices by tailoring the qualification to meet their needs. The employer can choose an extra qualification to give them a more rounded employee, Will and Dan have chosen to complete indoor studio cycling as Fit4Less run lots of these classes."
"Both Will and Dan are working in all areas of the business and are contributing to the day to day running of the club, dispelling the myth that apprentices need babysitting."
HFE kindly thanks manager Dan Ward, apprentices Will and Dan, and the rest of the team at Fit4Less for their time.
Keep up to date with all the latest apprenticeship news by following us on Facebook and Twitter.