Facebook is an excellent platform for personal trainers and self-employed fitness professionals as it takes all of the behaviours you should be applying in promoting your business such as networking, communication, follow up, and providing inspiration and allows you to extend these to a larger audience in order to grow your following. Done well, Facebook allows you to develop a personal brand, communicate better with present and future clients and ultimately grow your customer base. It's never too early to start working on your personal brand and social presence and there's no saying where it will take you. It may help you to publish your first book, achieve a job in top-level sports coaching, or simply have a successful, ongoing career in an industry you feel passionately about.
Most of us are familiar with using Facebook as a personal networking tool; as a way of keeping in touch with friends and family and sharing content and images within our personal network. Many may be less aware of its potential as a marketing tool, but once you start to uncover its potential you'll find it is a powerful one. For example, Facebook's hyper-local ads allow you to focus on only people that live or have recently been near a particular location. This feature is especially helpful if you work out of a particular gym as you can target only those people that are likely to attend your place of work. You can also target by interest, behaviour, demographic and customised lists. With this level of precision you can start to see why Facebook is a platform that fits well with small business owners and self-employed fitness professionals.
Getting started
Everything has to start somewhere and the first step to promoting your fitness business on Facebook is to set up a business page. The difference between a page and a profile is that a profile represents an individual and they are intended for personal, non-commercial use. Profiles allow you to add or remove friends and see their updates in your feed. Pages have a similar layout to profiles but they give you additional business tools. Pages have fans rather than friends and fans are obtained when individuals 'like' your page.
In order to set up a Facebook page you must first have a Facebook profile. Assuming you already have this (if you don't simply head to www.facebook.com and entering your details to create an account) you can complete the following steps to set up your page:
Sign into your account and go to facebook.com/pages/create
Select a page category
Use the drop-down menu that appears to specify more details about your page
Click on 'get started' and follow the steps to complete your page setup
If you have started marketing your business on Facebook using a personal profile rather than a page, you can migrate your profile to a page by following the instructions here.
Deciding what to post
Once your Facebook page is set up, it is worth put some thought into what content will appeal to your fans. Have a think about your audience – do you currently have a specialisation? Boot camp? Yoga? What about your demographics? Are your clients typically older or younger? Male or female? All of these factors impact the type of content you should be posting. Many page administrators tailor their content to their target audience intuitively, but it is a worthwhile taking the time to write it down. If you're just starting out and you're unsure of your target audience, you can visualise who you want your audience to be and what your future client base might look like. Another way of looking at it is, what are your own interests? If there is a specific area in fitness that you are enthusiastic about this may naturally develop into your area of specialisation as you progress in your career. Talking about something you are genuinely interested in will ensure you remain knowledgeable and passionate on the subject.
Types of content:
Images – 'fitspiration' photos of yourself, people you admire or clients you have helped (with their permission), photo captions (posting a photo and asking people for their best captions), news about your business including events you have held or attended, training courses, new equipment and locations, inspirational quotes, community news, etc
Videos – workout routines, events, inspiration, etc
Text – tips and advice, asking a question, linking to external content such as blog posts, news articles and other content of interest to your audience or relevant to your business.
What and whose content should you be posting?
If you have your own website, you should be promoting the content you have created. If you write a regular blog, be sure to share all your posts on your page.
If you don't have your own website a lot of the content you share will be created by other people. This is fine, just be sure of the reliability and authority of your sources.
Ideally you should vary the type of content you are posting with a healthy mixture of different types of content. You should also strike a good balance between your own content and that which is created by others.
Building your audience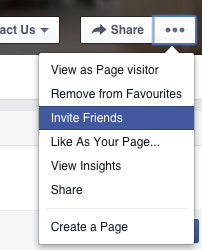 Once you have an idea about your content, you need to start growing your audience. The first and most obvious action is to use your existing network on Facebook by inviting them to like your page. This is found on your page menu on the right hand side (see image).
Once you have done this other suggestions for growing your audience include:
Run a competition – there are various Facebook apps you can use that can help with this. In order to access a competition, users are required to like your page. In addition, pre-built competition apps often have features like voting (for photo competitions, for example) which improves user engagement
Paid advertising – Unfortunately organic Facebook reach is very limited and it is unlikely your content will be seen without further promotion. You can use paid advertising to either promote a post to increase engagement with your existing audience or to promote your page to increase your fans. Advertising on Facebook can be very targeted, so ensure you are only targeting those people that fall within your pre-defined demographic.
If you have a website, integrating Facebook like buttons on your webpages will help drive engagement and increase your audience.
Tracking your results
Once you have a Facebook page, you also have access to a range of tracking tools. The inbuilt analytics service is called Facebook Insights and can be accessed by clicking on Insights in the top menu of your page (only visible to you when you are logged in). This part of your page will help you keep track of engagement, reach, new/lost fans and budget (if you are running paid advertising). Much like fitness plans, it's important to keep track of what's working and what's not. Rather than posting content and leaving it, make sure you follow up by tracking the results of your posts had and adjusting your page activity in response to your findings.