For those who fully embrace and utilise it, technology can be a fitness professional's best friend. There are countless tools, apps and online resources that can help with the day to day running of your fitness business, saving you precious time and avoiding any potential frustrations. Everything from managing your class schedule to budgeting for the weeks, months and years ahead can now be done with relative ease once you've found the right platform.
There are also now more ways than ever to connect you with your clients when you're not physically with them on the gym floor or a leading a group exercise class. Whether that's monitoring what they're eating so you can ensure they stay on track, providing them with exercise programmes to tackle when you're not around, or even seamlessly delivering online classes. It can all be done and it's never been easier or more affordable.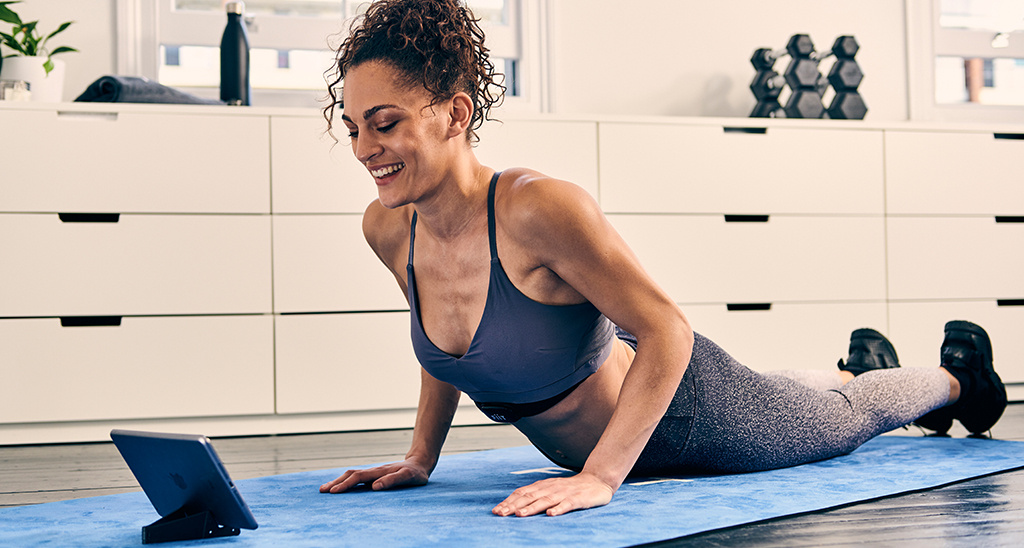 In this article, we'll be exploring some of the best online tools, apps and resources that are really going to help your fitness business thrive.
Delivering Online Classes and Sessions
There's perhaps never been a better time to expand your online offering as a fitness professional. Years ago, creating high-quality video content, that was worth paying for, required professional-grade equipment. Not to mention you'd probably have needed to hire someone who actually knew what they were doing if you didn't have that specialist knowledge yourself. All this adds up to a pretty hefty price tag.
Nowadays, if you have a fast internet connection, a decent amount of floor space and a smartphone or tablet, you're pretty much good to go. Here are a few of the standouts that require little to no setup and could pave the way for you delivering online classes and sessions:
Zoom

For many fitness professionals, this is fast becoming the go-to service for delivering online classes. For a start, there's a free tier that can accommodate up to 100 participants and the beauty is, all they need is the URL you provide. The 'meeting' can be accessed for free via desktop, mobile and tablet devices which offers great flexibility, particularly if your clients aren't au fait with technology.
The drawback to Zoom's free tier is that meetings only last 40 minutes, which might be perfectly suited to shorter HIIT-type sessions but not necessarily longer classes, involved sessions or detailed consultations. The paid tiers do increase the length of the meeting and you're able to download the video after the fact, this might be something worth considering if you're looking to regularly deliver online.
Skype

There are similarities between Skype and Zoom so it may come to down to personal preference with regards to which one you use. Like Zoom, Skype has the ability to create free conference calls/meetings that don't require participants to sign up or download anything.
Skype's strengths perhaps lie with its robust (and secure) one-to-one video conferencing tools, so fitness professionals might prefer to use it for delivering individual sessions or even webinars, particularly as screen sharing will allow you to refer to any supplementary materials you've created.
Instagram

Using Instagram Live and Instagram Stories is a great way to reach your followers en masse. They'll get a notification as soon as you go live and will be able to interact with you as you deliver your class or session.
The pros include how easy and cost-effective it is to set up, if you have a smartphone then you're only a couple of clicks away from going live and getting your content out there. If your followers don't happen to catch you live, your stream can be saved and rewatched later. The only obvious downside is participants also need an Instagram account and the app downloaded.
Insurance
A final word if you are looking to venture into delivering online classes and sessions and that's you need to remember insurance. Just as you need insurance to train clients on the gym floor, run a bootcamp or if you're instructing a group exercise class, you still need it for online sessions. You also need to ensure you're working within your scope of practice, just as you would in person.
So, if you're a qualified personal trainer and that's your bread and butter, attempting to deliver an online yoga class without the correct yoga teacher qualification would be an instant no-no. Luckily, several leading fitness insurance providers have seen the incredible rise in popularity of online classes and sessions and adapted their policies according. You should always double-check before launching your new online offering, but chances are if you already have insurance, it will also cover delivering online training.
For more information, take a look at this quick guide we've put together a general information piece about insurance for fitness professionals and we also have one available specifically for personal trainer insurance.
You can always take advantage of an exclusive discount on insurance courtesy of Insure4Sport by visiting our graduate offers and discounts page.
Management Tools
For freelance fitness professionals who literally are there own business, communicating with clients, scheduling sessions, keeping an up to date calendar, budgeting for the days and months ahead and many other miscellaneous admin tasks can be a tall order without the right software and solutions in place.
Yes, training clients and teaching classes is no doubt going to be the most rewarding part of the job, but there's so much that has to go on behind the scenes to enable your sustained success. Here are two of the best picks when it comes to all-in-one solutions:
Gymcatch

A fantastic booking and management system that really does let you do everything. With Gymcatch, you're given the complete flexibility to sell your services in the best way you see fit, whether that's in packages, blocks, classes or drop-in sessions. You can easily manage clients, payments, set up rewards schemes and much more. Plus, there's robust functionality for delivering online/virtual sessions with Zoom integration coming very soon.
My PT Hub

This is the go-to for personal trainers without a doubt. There are so many features packed in My PT Hub that it's clear to see why they market themselves as an industry leader. Alongside being able to effectively track clients and their progress down to the fine details, and taking payments for sessions, is the ability to create bespoke workout plans. At your fingertips is a bank of 7,500 exercise videos and you're also able to use your own custom exercises, perfect for those who want complete control of the sessions they deliver.
For both Gymcatch and My PT Hub, you can take advantage of an exclusive discount by visiting our graduate offers and discounts page.
Budget and Financing
If you were to list the most exciting aspects of being a fitness professional, managing a budget and controlling your finances isn't going to be at the top by any means but if it's still important none the less. The less micro-managing you're having to do with certain aspects of your fitness business, the more time you'll be able to devote to growing, better connecting with current clients and of course, reaching new ones. Here are two selections that could help you keep your finances in check:
Money Dashboard

Touting over half a million users in the UK, Money Dashboard makes managing your finances just that little bit less cumbersome. It's particularly useful if you've diligently split your personal and business accounts. Over 70 banks and providers are supported and with each account you link up, you'll be able to get a clear snapshot of where you stand financially. Budgeting features are also available, ideal if you have immediate or future plans to grow your business.
Moneyhub

You'll find a similar feature set to Money Dashboard, but it's always great to have options to choose from. With Moneyhub, you get a detailed analysis of everything you're spending your money on, plus you're in full control of the savings goals and budgets you set for yourself. Alongside pulling in current and savings accounts, you can also link up credit cards, mortgages, pensions and investments. If you have any other assets that aren't supported, these can be manually added to give you a clear picture of your overall net worth.
Website building tools
It used to be the case that if you talked to anyone who knew a thing about digital marketing they would say that you absolutely needed a website to succeed and you would be doomed to failure without one.
In today's rapidly moving and adapting fitness world it's perhaps less critical and providing you have a robust presence on social media, discoverability shouldn't really be an issue. That being said, if you're a multi-discipline fitness professional (e.g. delivering personal training alongside group exercise classes) getting across everything you do with a single Twitter, Instagram or Facebook account might seem like a lot to handle. In these situations, a website, a single dedicated place to point people to, can be a great boon. Here are a couple of options if you're looking to easily set up a new website:
Squarespace

If you know you don't have the technical skills to build a custom website from scratch or the budget to hire someone, an all-in-one solution like Squarespace is a great choice. Set up is incredibly straightforward and there are a range of templates to choose from. What you ultimately do with your website is up to you. You could keep things simple with just information about yourself and your offering, add a blog, showcase your clients' achievements, and even sell products and services.
WordPress

In their own words, 35% of the entire World Wide Web uses WordPress and that's owed to how much customisation is available. Out of the box, as it were, you're able to choose from thousands of templates and tweak visuals to our heart's content. If you're looking to keep things relatively streamlined in terms of functionality, WordPress is certainly worth your time. For adding more advanced features, you'll need to look to the marketplace for free and paid plug-ins. Many only require a few clicks and they're installed, others may require a bit more work and technical knowledge so it's always worth considering this before you get too heavily involved.
With the right mix of online tools and resources, you can maximise your client base, be incredibly efficient with your time and help your brand grow. If you're looking for more great career audience and guidance, we have a range of articles specifically geared towards personal trainers, Pilates instructor and sports massage therapists.