Group exercise continues to take the world of fitness by storm and not just in relation to the number of people signing up and regularly taking classes, but also how lucrative these brands and programmes are. To provide some context, the yoga market in the UK alone is worth £750m annually, while worldwide phenomenon CrossFit generates $4bn a year in revenue.
It's rare that a programme comes along that's truly new and revolutionary, even current favourites like pole fitness, barre and Les Mills borrow heavily from existing concepts and well-established modes of exercise.
What the most popular fitness classes do however perfectly capture the zeitgeist and serve up something that feels familiar, yet new and exciting at the same time.
An article published by Shawn Dolan, PhD, on the American College of Sports Medicine website, delved into the benefits of group exercise and just why it remains so popular. Amongst the ideas explored were the social implications, being in an environment with other like-minded people.
For something like a Spinning class, each instructor will have their own style, you're likely to be sat next to someone new each time, and the music selection constantly varies. Dolan also outlines the accessibility of group classes and how, regardless of a person's skill level or knowledge about exercise, there's always something to cater to their needs and goals.
Considering the continued meteoric rise of fitness classes, here are the five of the most popular available right now. There's substantial crossover with regards to the health benefits of each, but they all approach exercise in a slightly different way.
---
Crossfit
While there continues to be occasional controversy surrounding CrossFit, there's no denying its worldwide appeal. Founded by Greg Glassman and Lauren Jenai in 2000, CrossFit, Inc., the company behind the brand, is estimated to bring over $100m in revenue a year. There are currently 10,000 affiliated gyms across the globe and a typical seminar, where owners explain the philosophy behind CrossFit and demonstrate basic exercises, brings in $1,000 a time.
At its core, CrossFit is a combination of various aerobic exercises; weightlifting, plyometrics, gymnastics and more. The high-intensity nature of the functional movements performed are well suited to burning calories at an accelerated rate. Recent research suggests that participants who performed CrossFit for five days a week, for ten weeks, saw a massive improvement in aerobic capacity. They also observed a 3-4% reduction in body fat and increases in muscle. While those benefits are measurable, the study, performed by Ohio State University, showed that this form of high-intensity can come at a cost – of the 54 that participated in the study, nine dropped out because of injury.
HIIT
High-intensity interval training, or HIIT, involves 60 seconds of exercise close to peak ability (80 to 90% of a person's maximum heart rate), then followed by a minute's rest. This structure is usually repeated for 20 minutes. With no set formula or branding per se, many have created their own regimes and programmes. A cursory glance at Apple's App Store reveals countless numbers of seven-minute workout apps that all employ the principles of HIIT.
It's also proved useful in the world of sport. Athletics coach Peter Coe developed his own form of HIIT when working with his son Sebastian Coe. Inspired by university professor Woldemar Greschler and physiologist Per-Olof Astrand, the now Lord Coe would complete fast 200 metre runs with only 30 seconds recovery in-between.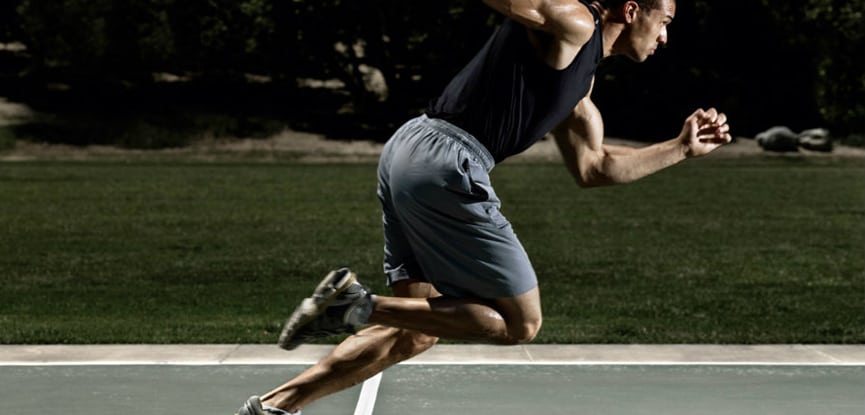 Research by the McMaster University in Ontario, Canada, found that blood glucose levels can be improved in overweight and obese people with this form of exercise. A separate study found that those with heart disease saw improvements in heart function when they tried HIIT. For those already in a recently active physical state, the above benefits can still be attained while the American College of Sports Medicine claims that HIIT burns more calories than traditional exercise.
Spinning
Known generically as indoor cycling, Spinning focuses on metabolic intervals with varying levels of resistance. There are enticing aspects to group indoor cycling, and one of the obvious ones is the nature of the class. Carl Foster, director of the human sports laboratory at the University of Wisconsin says that cycling "outdoors can be quite strenuous… Face it, the instructors make their money motivating people, so spinning classes tend to be at the upper end of the intensity continuum." It's not hard to see why many people find it easier to push themselves on a static bike then they normally would cycling alone outdoors. With a motivating instructor, music designed keep momentum up, and a class full of people, it guarantees a great atmosphere.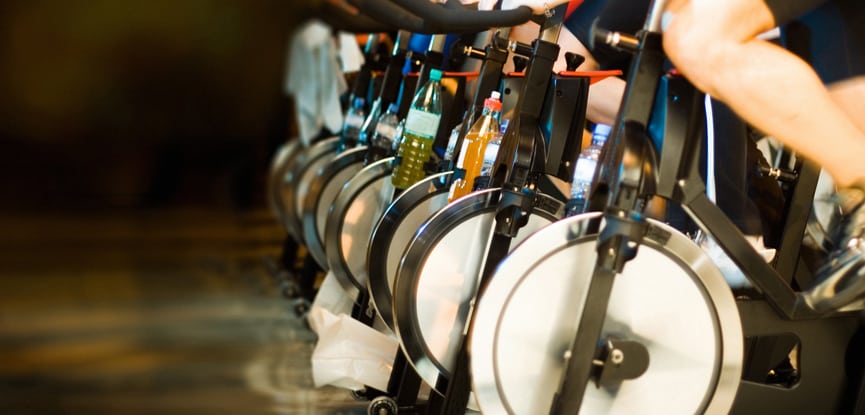 Speed and duration will ultimately determine how many calories are burned per class, but indoor cycling does provide a substantial abdominal and leg muscle workout. Due to the anaerobic nature of the exercise, cardiovascular health can also be improved.
Yoga
With a rich history that dates as far back as 10,000 years, yoga is a holistic form of exercise that promotes flexibility, posture and relaxation. Often associated with the Hindu faith, the practice of yoga is enjoyed by millions worldwide from varying backgrounds. While there are spiritual aspects to yoga, it is by no means a prerequisite or requirement to be religious at all.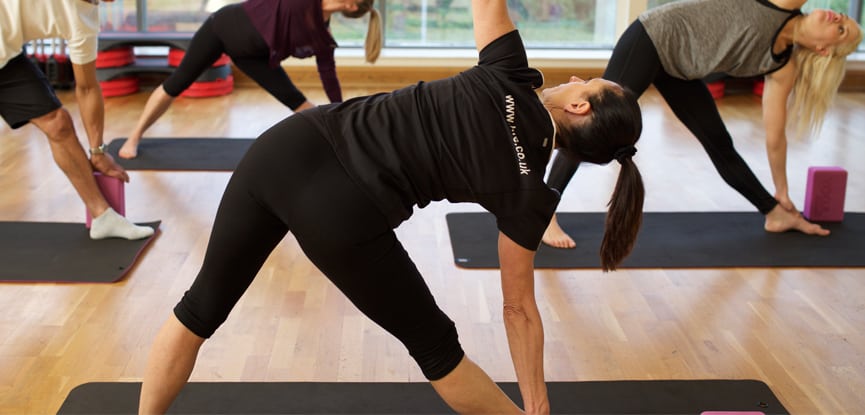 Many simply practice yoga as they're keen to improve mental well-being and reap the physical benefits. As an industry, yoga is worth $27bn worldwide and with many different schools and styles, including the incredibly niche 'voga', the options for those looking to practice are incredibly varied.
As detailed in the Bhagvad Gita, the Hindu holy text, there are 84 classic asanas (yoga poses), each with a range of adaptations, modifications and progressions. Certain classes and online workouts focus on one specific area, such as easing low back pain or core strength, while others take a more general approach.
Zumba
Created by Colombian dancer and choreographer, Alberto Perez in the 1990s, Zumba is a form of exercise to music which blends aerobic and dance elements. Class choreography is incredibly diverse and incorporates elements of samba, hip-hop, salsa, merengue and mambo.
Zumba's popularity stems from its ability to combine dance and more formal exercise elements, which has proved greatly appealing for those who normally shy away from solo gym exercise and who don't consider themselves dancers. As there are many strands to Zumba, the age range and athletic ability of participants varies widely and there are classes specifically aimed at various target audiences including older adults and even children. Another reason for its' popularity is that Zumba Fitness, owners of the Zumba programme, don't charge licensing fees – so once instructors are properly qualified, overheads can be lower when compared to other franchises.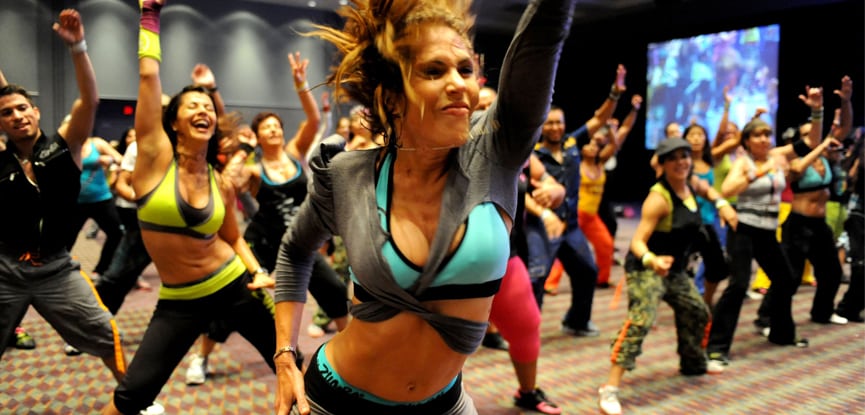 Due to the range of hip and midsection moments, research suggests that Zumba provides a whole body workout. The high-energy aerobic nature of the exercise provides a whole body workout, which also includes core strengthening and flexibility.