Alexanddra Taverner Success Story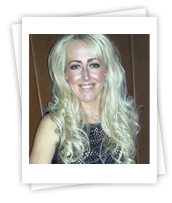 What is your background in exercise?
I have been exercising regularly now for about 4 years but before that I only performed exercise on a casual 'on and off basis' for holidays etc. I now prefer to perform strength/weight training but I do also enjoy cardio classes. love exercise for a variety of reasons, not just for weight loss/management. I had a positive experience myself with fitness professionals and so I thought why not try this myself? That's when I decided to do the course with HFE!
Why did you choose HFE as your training provider?
I found the HFE training advertisement on the REPS website and when I called for more information the team were extremely helpful and friendly. This is why I chose HFE and booked on their course.
What did you enjoy most about the course?
I especially enjoyed the attended practical and theory training days. The fact that the course had lots of home-study however meant that I could work it into my work and home life without having to take time off work.
The support team were very helpful, especially 'Gregg' because he helped me a lot with my theory revision, assessment preparation and just in general I suppose. I found he was always there the help and support me which was great.
What is your current role?
I am currently a part time beauty therapist and nail technician. I have a 4 year old son who occupies the rest of my time.
What are your future plans?
Firstly, I would like to get trained up with Les Mills so that I can teach the BTS (Body Training Systems) classes and then I'd like to do a studio cycling course. Once they're complete my aim is to work on a freelance basis in a variety of gyms and health clubs.
Eventually I'd like to go into personal training but I'm going to see where this new venture takes me first. I would definitely recommend HFE to people who are thinking about taking a course though and I would use them again myself to advance my qualifications.