Anthony O'Sullivan Success Story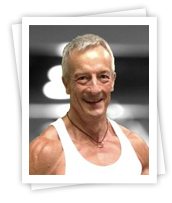 What is your background with exercise and fitness training?
I first got into working out as a student studying in the United States, and then again when I lived and worked in California. Coming back to England I got into bad habits and sadly my love of the gym died away. It was not until my father became ill with dementia and left me severely stressed that I got back into it again. It was an easy choice to taking pills—which was the doctor's alternative. As it turned out, it proved to be the best decision of my life!
Why did you choose the course you did?
I chose the Level 2 Gym Instructor course because my personal trainer recommended it.
Why did you choose HFE to deliver your training?
I looked around at a number of training providers but came across HFE almost by accident. My personal trainer was doing a Level 3 course and I met his assessor who works for HFE. I was so impressed by her professionalism that I immediately signed up for the course.
What did you enjoy most about your course?
I like the fact that it was mostly on-line study and assignments. I was even more impressed by the quality of my personal tutor, who was not only knowledgeable, but also supportive and had a thorough and engaging way of helping me understand and remember key pieces of information. He was also extremely professional, literally calling on the very second of the hour he previously arranged.
The tutors not only knew the material inside and out, but also were effective and engaging teachers.
What did you find most challenging about your course?
The most challenging part of the course must have been the practical elements. It was hard to work within the role-play scenario, not in the sense of being difficult but I found myself very self-conscious and over analytical in regards to what was required.
How would you rate the quality of teaching provided by your course tutors?
The tutors not only knew the material inside and out, but also were effective and engaging teachers. I don't think I looked at my watch once during the weekend training events; certainly I did not have a boring moment! They knew what was important and had the freedom to meet the needs and learning preferences of the group. I was especially impressed that they constantly began and finished on time.
To what extent did you feel supported during the home-study phase of your course?
As I said, my personal tutor did a great job of supporting me; in addition the online materials and manuals were well written, well presented and did what they were supposed to do.
How would you rate the teaching and learning materials provided to you?
On the whole the materials were of the same high standard that was set by HFE in all other areas.
What is your current role?
Currently, I work in my local gym a few hours each week in the evening, to help out and in exchange watch and learn from the other trainers, and now that I am qualified, I will be doing a little gym instructing too and a lot of practice for the Level 3 work!
What are your future training and career plans?
I am about to sign up for the Level 3 Personal Trainer course and do so with anticipation. Level 2 has improved the psychological edge in my fitness and physique goals and I can only anticipate that doing the Level 3 Personal Training course will yield even greater dividends.