David Ellis Success Story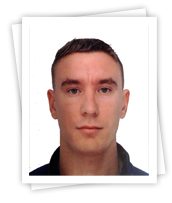 What is your background with exercise and fitness training?
My background with fitness and training is predominantly related around military fitness, as I spent over 7 years in the parachute regiment where high levels of fitness was a key part of my job role.
Why did you choose the course you did?
I chose the Level 2 Gym Instructors course as a stepping stone to get myself on the ladder in the health & fitness industry. It was also to build a platform to progress in a challenging new career.
Why did you choose HFE to deliver your training?
I had previously heard great things about HFE and the courses they ran, what they offered and how they delivered the course. After a conversation with them i realised my learning was very flexible and suited my working lifestyle.
What did you enjoy most about your course?
What I enjoyed the most about the course was the flexibility, also the support system they have in place with an online tutor dedicated to you! The online materials such as their HFE learner management system and course manuals were very informative and easy to digest.
What did you find most challenging about your course?
The most challenging part of the course was learning new material such as the principles of fitness which I did not have much knowledge of before, also parts of the anatomy and physiology were a lot more in depth than I thought. However, i had all the help i needed in order for me to learn these.
The materials they provide such as the online course content, is simple and easy to use.
How would you rate the quality of teaching provided by your course tutors?
The course tutors have a vast amount of knowledge and experience and the way they deliver the information across is really easy to understand. It was really helpful knowing I had the online support tutor who I could call or email at any time. The quality of the teaching was excellent.
To what extent did you feel supported during the home-study phase of your course?
I could not of asked for any more support! As I work away in my current job, I was in contact with my tutor via email and my tutor always phoned to see how I was progressing. Although, I have to admit, I wasn't the most accessible student. Gary was very patient and took my working situation into consideration.
How would you rate the teaching and learning materials provided to you?
The materials HFE provide such as the online course content, is simple and easy to use. The reading material is broken down into sections which also makes this easier to understand and less overwhelming.
What is your current role?
My current role is as a close protection officer, which involves looking after clients in hostile and corporate environments. It is a very physically demanding role and therefore a high level of fitness is essential.
What are your future training and career plans?
My future career plans are to progress and qualify as a Level 3 Personal Trainer and then on to do my Exercise Referral qualification. I am also interested in the rehabilitation of clients because of my previous military experiences.