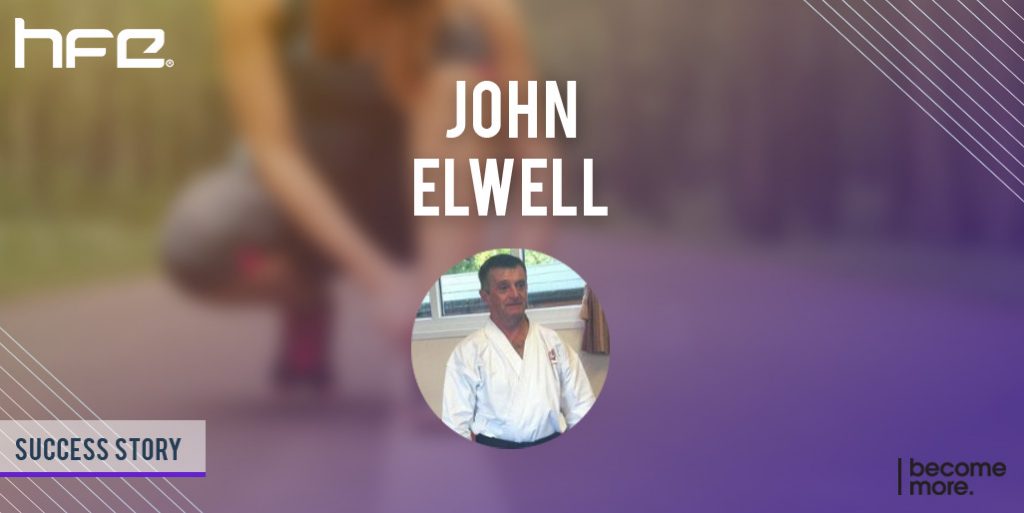 What is your background with exercise and fitness training?
I have always been active in some form of sport or exercise; I played football at school until I left when I discovered martial arts. I have studied Wado Ryu karate from the age of 19, I am now 58 and still practice it regularly, I have also studied Aikido, enjoyed rock climbing, mountain walking and golf. I am a member at Nuffield Gym in Wolverhampton.
Why did you choose the course you did?
By reading the previous comments it may seem that I ought to have suitable and sufficient training in this field however I felt, quite correctly in my opinion, that I had not and I required some proof of competence at this level to enable me to progress further with my development.
Why did you choose HFE to deliver your training?
I have become very interested in nutrition and the quite worrying state of a very large part of our population, I have written a short book about my thoughts and an instructor who has read the book suggested that this may be a suitable path for me. She had experience with HFE and a glowing recommendation from Sarah led me to make contact them.
What did you enjoy most about your course?
The knowledge that I felt that the course has given to me. I am the sort of learner who likes to have my questions explained logically so that I can understand why a problem occurred and how to rectify it as opposed to the 'don't worry about it just do this and it will sort it' approach.
What did you find most challenging about your course?
Anatomy and Physiology.
How would you rate the quality of teaching provided by your course tutors?
I found Jon and Ben to be two very good tutors, different styles of teaching but both very good. They were both informative and supportinve, the questions they asked of the group were pitched at the correct level to make you think. I personally thought they were spot on.
To what extent did you feel supported during the home-study phase of your course?
Constantly. Martyn was superb, he guided me in my approach and I felt him to be motivational as well as supportive. I regularly called and asked either questions or to have the system re set so that I could re take the quizzes or the mock exams and at no point did I ever feel that it was an effort to talk to me or help me as I have experienced on some work related courses in the past. I have to say the support was 100%.
How would you rate the teaching and learning materials provided to you?
I thought the materials were superb, clear and very very helpful. I only had one issue in that I did not think I could submit the quizzes before my weekend course as I thought at first they were the online exam. This was explained to me and I used them to their full extent. The quality of the manuals was superb and not just a quickly created photocopy of a master document in an office somewhere. I will retain them and use them constantly as I believe they are so good.
What is your current role?
I am currently an owner and director of a Fire Protection company and have been for the last 10 years.
What are your future training and career plans?
I am now looking at taking retirement from my company, the 32,000 miles a year and long days do not hold the appeal they once did however I am a long way from pipe and slippers. I enjoy work and helping people and I believe there is a market for the more mature personal trainer with clients who may be in the same age bracket. I often say to friends 'age is just a number' so my plan is to become a personal trainer and focus on people who want a slightly older instructor. I have seen people of my generation shy away from younger instructors as they feel a little shy; I am hoping I can create a niche market. From a business plan perspective it seems to be plausible as I am appealing to a generation that actually have disposable income.