Julie Nickisson Success Story
What is your background with exercise?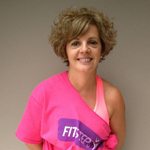 I have been a pretty regular gym-goer for many years. I live a fairly healthy lifestyle, I used to swim weekly, and I enjoy skiing; I also used to play tennis regularly as a child. I have done exercise all my life, starting with gymnastics as a child, going through the Jane Fonda era and the launch of the Les Mills Body Combat & Pump in the late 1990's. After 22 years of working in the NHS as a Manager, it was no surprise to my friends when I opted for voluntary redundancy with a view of becoming a group exercise instructor. I don't think my friends will ever forget the time I enrolled them for a week's break at Boot Camp Beach.
So no formal experience, just my passion to keep fit and well and help others in the process; some might call it an obsession!
Why did you choose HFE to deliver your training?
I chose HFE for the following reasons:
The venue was local to me so location was perfect!
The website and materials was of a high standard!
I got great feedback from other students!
The course as very cost effective for me!
What did you enjoy most about your HFE course?
I enjoyed meeting people who had similar interests in fitness, even though we may be taking our careers in different directions.
Most of all was the support from the HFE team. Everybody was treated equally, but additional was given where needed, or requested.
I would like to give a special thank you to Yvette who inspired me on the last day of the course when I was being too self critical (see future plans below). A big thank you to Gary who made me laugh and although I wasn't in Tim's group, he would always ask how I was doing.
Last but not least, big thank you to Gregg my support tutor.
What is your current role?
I am currently unemployed, but not for much longer, as I have just received my ETM results and I am pleased to announce that I have passed! Thanks to everyone!!
What are your future plans?
Since my chat with Yvette on the last day of the exercise to music course, the following morning I designed a leaflet and went to the printers. Walter from the printers offered me a studio to do my classes, in Leigh and I found a second venue in Culcheth.
I drew up a new CV and handed this to DW in Leigh and they will have some sessions available for me in September.
This Sunday I am going to Party in the Park in Culcheth, to promote my new classes which will commence in September. This leaves me 6 weeks to plan my choreography and practise.
Next steps for me are to train with HFE on Pilates Instructor Qualification, which I believe is an excellent course!
A message to all of you out there, 'it's never too late to follow your passion' and don't ever give up!