Lee-Ann Carnall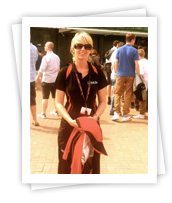 What is your background in exercise?
I have worked within sports development and coaching for the past 8 years with a variety of people of all ages, backgrounds, gender and ethnicities. I currently work for a Leisure trust that operates 5 Leisure centres which all have fully operational gyms, dance studios and sports facilities. I am therefore around those environments constantly which is what sparked my interest in this course.
Why did you choose HFE to deliver your training?
Currently my post is not permanent and so I decided to carry out training in order to include a new qualification on my CV and increase my future employment prospects. This qualification will enable me to transfer my skills into the fitness industry if my contract is not renewed or if I decide I would like to change my career.
What did you enjoy most about your HFE course?
Learning about the different types of resistance exercises was especially fun for me, particularly the free weight and body weights exercises. I also enjoyed studying about the different muscle areas and their actions, which helped me to learn how to get the most out of the different resistance exercises. I also really enjoyed the learning about the effects that exercise has on the body, especially the muscle groups.
What is your current role?
I currently work as an Active Lifestyles Officer for Link 4 Life in Rochdale Greater Manchester. My role is split into 2 areas; the first area developing and coordinating school holiday activity programmes across all the main leisure facilitates in Rochdale and the second looks at providing exercise  and physical activity programmes to target groups of adults and children that have mental health illnesses and conditions. i.e mental health patients, workforce employees, children who are overweight etc…
What are your future plans?
In the future I hope to manage the sport and leisure facilities and programmes, increase the provision of activity for children and young adults and generally improve the links between our clubs and the public by engaging more adults and children. However I do have a personal interest in the fitness industry, especially when it comes to anatomy and physiology so I am also considering taking the Level 3 Sports Conditioning Course.