Michael Domney Success Story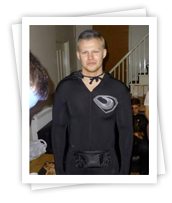 What is your background with exercise and fitness training?
Since I was about 16 years old I have always been fascinated by fitness, especially weight/resistance training and the anatomy of the body.
Why did you choose the course you did?
I wanted a career change, I wanted people to be as fascinated about health and fitness as I am, and share my knowledge for living. I felt that the best way forward for me was to enroll onto the Level 2 Gym Instructor course and the Level 3 Personal Trainer course.
Why did you choose HFE to deliver your training?
I chose HFE because they were easy to get along with and gave me precise, accurate information when i enquired. The course venue location was appealing and it was great value for money!
What did you enjoy most about your course?
Without a doubt i enjoyed the practical side of the course the most; the tutors were terrific and the course venue was outstanding.
What did you find most challenging about your course?
The self taught parts such as the distance learning were sometimes a bit hard but i always knew i had my tutor on hand! Being someone who struggled in school with learning, I found it tricky to take things in.
How would you rate the quality of teaching provided by your course tutors?
Simple, effective and really easy to understand in a mellow atmosphere! They definitely knew their profession which gave me so much confidence!
To what extent did you feel supported during the home-study phase of your course?
All the way, my Support tutor Gregg was just on the other end of the phone or email whenever I needed his help!
The course venue location was appealing and it was great value for money!
How would you rate the teaching and learning materials provided to you?
They were outstanding! The colour manuals really made the experience a whole lot better and added with the audiobooks-i couldn't have asked for more.
What is your current role?
Marketing manager for design and marketing agency, but i am looking to find a career in fitness.
What are your future training and career plans?
Find a job in a gym, build up a nice client base, win the lottery, have my very own gym called " The Money Makers"