Mike Holley Success Story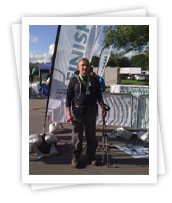 What is your background with exercise and fitness training?
I come from senior management positions within the manufacturing and IT industries and have never worked within the fitness industry before.However that said I have been doing regular exercise continuously in a gym 3 times a week for the last 8 years, the last 2 of which, I have had a personal trainer to get me fit and ready for various physical challenges. All of these experiences have been very satisfying and inspiring, and made enjoyable by the people involved which has allowed me to raise my fitness to a high standard.
It is this commitment, enjoyment and enthusiasm for fitness and exercise along with all the associated benefits to health etc. that I would like to pass on to clients and for them to be able to push their own boundaries. Particularly for the middle to older generation and show that age does not limit one in being fit and healthy regardless of lifestyle etc.
 Why did you choose the course you did?
I want to complete my Level 3 Personal Trainer qualification and therefore I needed to see if I could successfully undertake the prerequisite course for access to the higher levels to give me a start. This would give me confidence and enthusiasm to proceed as I had not done any formal studying or exams for many years due to my age.
Why did you choose HFE to deliver your training and what did you enjoy most about your course?
I had a recommendation from my personal trainer about HFE so this gave me confidence when i enrolled onto the course.
I enjoyed all of the course, the practical sessions were most probably the best as this gave you chance to put the theory into practice and meet other people doing the same course which helped consolidate the learning.
What did you find most challenging about your course?
Most probably the practical assessments but they were within my ability and so i enjoyed doing them in the end.
How would you rate the quality of teaching provided by your course tutors?
I felt that the quality and standard of teaching was excellent and was carried out in a very professional friendly manner.
To what extent did you feel supported during the home-study phase of your course?
The support supplied by HFE with a support tutor on hand was excellent. Although I personally did not have many particular problems I knew that they were there at the end of the phone or by email if needed and they kept in touch throughout the course. Any questions that I had were answered professionally and promptly.
I felt that the quality and standard of teaching was excellent and was carried out in a very professional friendly manner.
How would you rate the teaching and learning materials provided to you?
I felt that these materials were excellent, well put together and easy to follow and of a good quality.
What is your current job role?
I am currently working as a civil servant on a part-time basis. This follows many years being in top level technical management roles and recent redundancies.
What are your future training and career plans?
I now intend to go on to complete the L3 Personal Trainer Certificate and most probably the L3 Exercise for Older Adults course as well.