Naama Gelber Success Story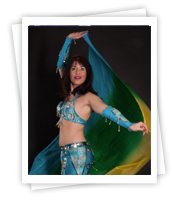 What is your background with exercise and fitness training and why did you choose the course you did?
I am a bellydancer, teacher, performer and choreographer and I wanted to help my students to build their core in a safe way using Pilates. I work in a different bellydance format to usual where we are not allowed to pump the knees and hips so we use the obliques, all stomach muscles and the glutes to perform the moves which achieves a higher level of control and muscle isolation. I found Pilates very helpful to build the core and help with the postural issues which are paramount when dancing as well as improving joint mobility.
Why did you choose HFE to deliver your training?
I found the e-learning option combined with 5 intense training days in London very convenient and the price of the course was very affordable compared with others.
What did you enjoy most about your course?
The training days in London were very tiring and very intense but most useful and helpful, more than I could have imagined. During these days all the self studying of many hours and days made sense and everything linked up into what is Pilates and how to teach it.
What did you find most challenging about your course?
Studying anatomy – I had no previous qualification as such and that was extremely challenging but very interesting at the same time.
I had an excellent teacher who had the best combination of personality, which was friendly and approachable but yet authoritative.
How would you rate the quality of teaching provided by your course tutors?
It was superb. I had an excellent teacher who had the best combination of personality for a teacher, which is being friendly and approachable but yet authoritative, with a high level of attention to detail. The verbal guidance I received from my tutor was very valuable and most helpful.
To what extent did you feel supported during the home-study phase of your course?
If I had any question or issue I found it easy to ask and I got answers very quickly – very good communication and most helpful.
How would you rate the teaching and learning materials provided to you?
The teaching material was good. Very detailed but what I found very helpful is how HFE broke down the required tasks over each week. I had tried to do it in a different order and it didn't work and when I followed the list of what I should achieve each week it was much easier to follow and understand.
What is your current role?
My current role in my work is Business Development.
What are your future training and career plans?
I plan to teach Pilates and to continue teaching bellydance but to include Pilates exercises within the class.