Neola Wilby Success Story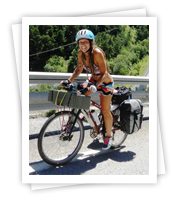 What is your background with exercise and fitness training?
Surprisingly, my background is in law! I used to be a solicitor but have been a fitness enthusiast and keen cyclist for many years.
Why did you choose the course you did?
I decided I'd like to build a career in the fitness industry and, after cycling 2500 miles across Europe last summer, I thought teaching spinning classes would be a great place to start. To become a spinning instructor, I needed to obtain the Level 2 ETM qualification. I went for this over the level 2 Gym Instructor qualification as I thought it would give me more options to take other fitness classes in the future.
Why did you choose HFE to deliver your training?
I looked at a number of companies offering the Level 2 ETM but I decided to go with HFE based on price, location and also a recommendation from a friend who had trained with them.
What did you enjoy most about your course?
The tutors and students on the course were so friendly and supportive of each other, it really felt like we were all "in it together", helping each other through the difficult bits and making it fun as well.
The course tutors were both absolutely fantastic, really supportive and friendly.
What did you find most challenging about your course?
Overcoming my nerves for the practical aerobic assessment was the most challenging aspect of the course for me as I'm not a huge fan of aerobics and I was worried that I would mess up the choreography and/or timing.
How would you rate the quality of teaching provided by your course tutors?
The course tutors were both absolutely fantastic. Really supportive and friendly.
To what extent did you feel supported during the home-study phase of your course?
I felt I had all the support I needed. I suppose I'm quite an independent learner as I'd rather get on with things on my own, but there was always someone there at the end of the phone when I needed anything. I really liked the flexibility of this – the support was there if needed, but I didn't have to be constantly on the phone if I was happy working through things on my own.
How would you rate the teaching and learning materials provided to you?
The materials given on the course were really comprehensive but straightforward to work through, and they even included a music CD to practice the aerobic routine to.
What is your current role?
I'm now working as a fitness instructor! After completing the ETM, within a few weeks I was running my own plyometric training classes at a local gym. Since then (6 weeks ago now), I've been employed by a second gym to run interval training classes.
What are your future training and career plans?
I'm enjoying teaching my interval training sessions so much but I have loads more plans for the future! By the end of 2014, I want to obtain the spinning qualification I originally set out to do! I'm also planning on running my own bootcamps, completing INSANITY instructor training and also completing my level 3 in Personal Training.