Paula Jamieson Success Story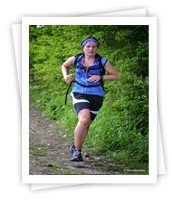 What is your background with exercise and fitness training?
I have always been active from an early age, playing football as a kid, then golf, before finishing University and moving to Bradford for my first job where I discovered Les Mills classes and made some good friends in the process! I then moved to Darlington where I joined the gym and regularly trained about 3-4 times a week. Somehow and somewhere along the line I got into running which became long distance off-road running, which has since become long distance triathlons (including a half Ironman distance in the lakes last year)!
Why did you choose the course you did?
As a result of the progression in my training and fitness I have had to develop knowledge of nutrition and writing training programmes for myself. I have also recently completed a Level 1 triathlon coaching award and help out with the junior section of my club. The next logical step seemed to be to put this experience and knowledge to use and help other people achieve goals they never thought possible! I wanted to become Level 3 qualified, which then opens up a whole host of paths to follow. So firstly I needed L2 Certificate In Gym Instructing, then it was onto L3 Certificate In Personal Training.
Why did you choose HFE to deliver your training?
My main reason for choosing HFE was the distance learning aspect and the weekend courses as this fitted extremely well with me as I work full time.
What did you enjoy most about your course?
I loved spending the weekend courses with like minded people, sharing experiences and knowledge. I also loved studying again and learning new material – anatomy was challenging given that biology and the sciences were never my favourite at school!
What did you find most challenging about your course?
Fitting everything in was sometimes quite a challenge, as a lot of study is required outside of the weekend attendance courses. Making time every evening to study was made easier by the fact that it was dark and cold outside!
The online system was great too, it allows you to test your knowledge as you go along and focus on weaker points.
How would you rate the quality of teaching provided by your course tutors?
The quality of teaching was fantastic on both courses. Both tutors were extremely knowledgeable and approachable. I learned so much by spending weekends with these guys who have been in the industry most of their working lives.
To what extent did you feel supported during the home-study phase of your course?
The support was always there if I needed it, which was reassuring. Any questions I asked would be answered immediately. Most of my contact was via email as I could fit this in at work, but I know that a lot of people spoke to the tutors on the phone regularly.
How would you rate the teaching and learning materials provided to you?
The learning materials are fantastic. I pick up the manuals at least once a day and refer back to various sections. The online system was great too, it allows you to test your knowledge as you go along and focus on weaker points.
What is your current role?
I currently work in an office environment.
What are your future training and career plans?
I have recently bought a sports event company and I hope to build up Personal Training and coaching as a side arm of that.