Rachel Saunders Success Story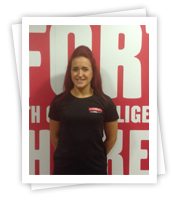 What is your background with exercise and fitness training?
As a dancer from a young age I was always interested in fitness and exercise and how to train the body to improve performance and technique. So after leaving university I began working for Fitness First as a Receptionist. It was during this time I studied for my Level 2 Exercise To Music qualification. Within a year I was made redundant and decided to go traveling for two years, where I learnt many different techniques and styles of training from all over the world. When I returned to England at the beginning of 2014 I decided to pursue my career within the fitness industry as a Pilates Instructor.
Why did you choose the course you did?
I had always been a fan of Yoga and Pilates and it had provided great results in my flexibility, core strength and posture. Although classes were always popular there was limited instructors so I thought it would be a great area to train in.
Why did you choose HFE to deliver your training?
A friend had referred me to HFE and as soon as I contacted them, they were so helpful and informative and offered me help towards funding.
What did you enjoy most about your course?
I really enjoyed the workshop weekends, learning how to actually perform all the exercises I had read in the manuals and being able to ask the trainer as many questions as I wanted. The weekends flew by and were very enjoyable.
What did you find most challenging about your course?
I found a few of the worksheets quite challenging as they required so much detail and I often felt like I was repeating myself.
How would you rate the quality of teaching provided by your course tutors?
10/10. She was so knowledgeable and always happy to explain things in more detail if needed. She was so friendly and made everyone feel at ease, even before our exam. She would always give great feedback and clear on what needed more work etc. Out of all the training providers I have used so far in my career, the quality of teaching provided by HFE has been the best.
To what extent did you feel supported during the home-study phase of your course?
The quality of teaching provided by HFE has been the best.
I had a phone call nearly every week during my home-study phase where I could ask questions and check my progress. I also was able to email and call whenever I wanted with any queries or doubts and my support tutor Gregg always got back to me promptly.
How would you rate the teaching and learning materials provided to you?
The materials provided were great. Very colourful and helpful, made it very easy to learn with clear and thorough information.
What is your current role?
I am currently working in a gym as a Fitness Instructor, working with members on a one to one basis and also teaching group classes, so far I teach 4 Pilates classes a week! I have also just been offered a new job at Lifestyle Fitness as a Pilates Instructor which a start in a week.
What are your future training and career plans?
My next step is to gain my Level 3 Personal Trainer award and then I would like to keep training in various areas to broaden my knowledge. I have recently worked with the Princes Trust to create a business plan and I have been accepted on to their Enterprise Program where I will start my own fitness business, teaching classes in local communities. So my plan is to grow my business and become completely self employed.